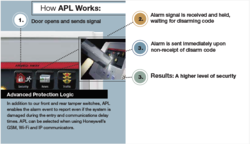 NorthStar is committed to providing a superior service to our customers through the newest available technology.
Orem, UT (PRWEB) April 27, 2012
NorthStar Alarm is now offering Advanced Protection Logic as an added security feature for customers with a Honeywell LYNX Touch panel. Advanced Protection Logic, or APL, is a function that protects against a "Smash and Grab" burglary.
With APL enabled, an alarm will be reported even if the system is damaged during the entry and communications delay times. APL can be selected when using Honeywell GSM and IP communicators.
President of the company, Jason Christensen, said, "NorthStar is committed to providing a superior service to our customers through the newest available technology. APL is added security that eliminates one of the potential vulnerabilities of a self-contained security system."
NorthStar Alarm customers that already have the LYNX Touch panel installed in their home can add the APL function to their system. Any customers who are interested in upgrading their current alarm panel to utilize this feature can contact NorthStar's customer care department at 1-800-775-7827 from 7 a.m. to 7 p.m. Monday through Friday and 9 a.m. to 5 p.m. on Saturday Mountain Standard Time.
About NorthStar Alarm
NorthStar Alarm Services, LLC, an authorized dealer of Honeywell Security Products, provides the most technologically-advanced and user-friendly home security systems on the market. Having the equipment, relationships, and reputation that families have been able to count on since NorthStar was founded in 2000, NorthStar continues to grow and protect residents in more than 20 states across the U.S. With a 24-7 support staff, Rapid Response monitoring, well-trained technicians, and professional consultants— NorthStar Alarm exists to provide security and peace of mind through quality products and superior service. For more information, please visit http://www.northstaralarm.com.
About Honeywell
Honeywell International (http://www.honeywell.com) is a Fortune 100 diversified technology and manufacturing leader, serving customers worldwide with aerospace products and services; control technologies for buildings, homes and industry; automotive products; turbochargers; and specialty materials. Based in Morris Township, N.J., Honeywell's shares are traded on the New York, London, and Chicago Stock Exchanges. For more news and information on Honeywell, please visit http://www.honeywellnow.com.
###