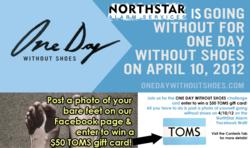 NorthStar was founded on three core values, and one of those is service.
Orem, UT (PRWEB) April 10, 2012
NorthStar Alarm employees shed their shoes April 10 to help raise awareness for the millions of children that go without shoes each day. "One Day Without Shoes," an annual event sponsored by TOMS Shoes, encourages people to bare their feet one day of the year to discover the impact a pair of shoes has on a child's life and provide proper footwear to children in need.
Since its beginning, TOMS has provided more than one million pairs of shoes to children in need in over 30 countries. A child without shoes is more likely to contract soil-transmitted diseases, parasites, cuts, sores and the possibility of being denied to go to school.
In support of the program, NorthStar Alarm employees were encouraged to take off their shoes at work and throughout the day on April 10. NorthStar's employees and customers were also given the chance to win TOMS merchandise by sharing their own barefoot photos on the NorthStar Alarm Facebook page, showing their support for the cause.
President of the company, Jason Christensen, said, "NorthStar was founded on three core values, and one of those is service. We've had several employees who have spent time in third-world countries where they have witnessed first-hand the effects of children who grow up without any shoes. They, along with many other NorthStar employees expressed interest in supporting this worthy cause and we've been looking forward to taking off our shoes on April 10 to help serve in this capacity."
In 2011, people went without shoes at over 1,000 events in over 25 countries around the globe. Learn more about TOMS' "One Day without Shoes" campaign by visiting http://www.onedaywithoutshoes.com.
About NorthStar Alarm
NorthStar Alarm Services, LLC, an authorized dealer of Honeywell Security Products, provides elite home security systems that are the most advanced and user-friendly on the market. Having the equipment, relationships, and reputation that families have been able to count on since NorthStar was founded in 2000, NorthStar continues to grow and protect residents in more than 20 states across the U.S. With a 24-7 support staff, Rapid Response monitoring, well-trained technicians, and professional consultants— NorthStar Alarm exists to provide security and peace of mind through quality products and superior service.
About TOMS
TOMS Shoes was founded in 2006 when an American traveler, Blake Mycoskie and TOMS CEO, befriended the children of an Argentine village and found that they had no shoes to protect their feet. Unknown to many, millions of children walk for miles to get fresh water or go to school throughout the world. Wanting to help, he created a company that would match every pair of shoes sold with a pair given to a child in need. One for One. Since 2006, TOMS has given over one million pairs of shoes to children through giving partners around the world. For more information visit: http://www.TOMS.com.
###