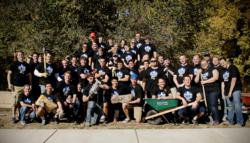 It was a rewarding, team-building experience, and we are anxious to work with Habitat for Humanity again in the future.
Orem, UT (PRWEB) October 23, 2012
NorthStar Alarm, a home security provider, teamed up with Habitat for Humanity of Utah County Saturday to participate in a local revitalization project in the community.
Employees from the company's corporate office in Orem as well as employees from area offices including California, Texas, and Arizona showed up bright and early to work together on a much-needed service project in a Habitat for Humanity neighborhood.
The team of volunteers worked on everything from landscaping, weeding and clearing gravel to repairing a roof, installing a new fence and general clean up for the Habitat homes in the area.
NorthStar Alarm Director of Human Resources, Ashlyn Lewis, said, "We were excited to have so many employees, many of whom traveled from out of state, show up and work hard on this community service project. It was a rewarding, team-building experience, and we are anxious to work with Habitat for Humanity again in the future."
The alarm company is also donating a home security system and covering the monitoring fees for one of the new homes being built in the same Provo neighborhood where the revitalization project took place. The Habitat for Humanity family moving into the new home has a six year old son with severe autism, and the alarm system will provide protection and emergency notifications for the family should the child attempt to leave or unknowingly put himself in harm's way.
The groundbreaking for the aforementioned new Habitat home is scheduled for tomorrow, October 23, at 8:00 a.m. at 1042 North 950 West, Provo, after which the home NorthStar security system will be installed with 24-7 monitoring at no cost to the family.
About NorthStar Alarm
NorthStar Alarm Services, LLC, an authorized dealer of Honeywell Security Products, provides the most technologically-advanced and user-friendly home security systems on the market. Having the equipment, relationships, and reputation that families have been able to count on since NorthStar was founded in 2000, NorthStar continues to grow and protect residents in more than 20 states across the U.S. With a 24-7 support staff, Rapid Response monitoring, well-trained technicians, and professional consultants— NorthStar Alarm exists to provide security and peace of mind through quality products and superior service. For more information, please visit http://www.northstaralarm.com.
# # #