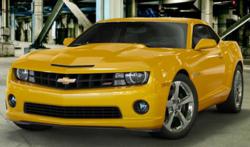 "Outstanding, dependable vehicles combined with an exceptional customer experience are the cornerstones of our commitment"
Moon Township, PA (PRWEB) February 15, 2013
North Star Chevy is delighted to announce some really big news out of Detroit - Chevrolet vehicles brought home high honors in the 2013 Vehicle Dependability Study! Here are the particulars:
Chevrolet Camaro (Midsize Sporty) and Chevrolet Tahoe (Large Crossover/SUV) both received awards in their segments. The Camaro received the highest dependability award in its segment in its first year on sale. This study tracks reliability of 2010 model year vehicles during the third year of ownership. The Chevrolet Avalanche received honors in the Large Pickup segment for dependability. Reliable…dependable….long-lasting….that's Chevy. Come see North Star Chevy today for a test drive and see what all the fuss is about.
As Alicia Boler-Davis, vice president Global Quality and U.S. Customer Experience, puts it "Outstanding, dependable vehicles combined with an exceptional customer experience are the cornerstones of our commitment to provide the best overall ownership experience in the industry." North Star is proud to be a part of the Chevy family of dealerships and we look forward to helping you find your next car or truck.
And in news closer to home…
Recently, Eric Boff, 37, achieved World Class Mechanic status within the General Motors Corporation. It is a designation he shares with only about 1800 of the more than 250,000 General Motors accredited mechanics in North America.
"He has the hands of a surgeon, only he operates on the hearts of automobiles," said Joe Gray, General Manager at North Star Chevrolet in Moon Township.
"I get satisfaction by being able to figure out what is the matter with your car. This isn't the end for me; I will continue to train so that I can do the best possible job. Technology changes so quickly, if you don't continue to educate yourself you will be left behind" said Boff.
Flowers are pretty and candy is sweet, but a deal like this can't be beat!! Chevy is offering a real SWEETHEART of a deal – Check out Chevy's sign & drive lease offers. Right now, you can lease a 2013 Chevy for $0 first month's payment, $0 down, $0 security deposit, and $0 due at signing. You've gotta love that!