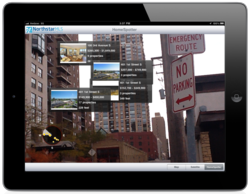 "The addition of HomeSpotter to MobileRealtyApps' smartphone and tablet solution suite is another example of how NorthstarMLS empowers our customers with best-in-class resources to better serve their customers." - John Mosey, president of NorthstarMLS
Minneapolis, MN (PRWEB) February 02, 2012
NorthstarMLS expanded its iPhone and iPad apps by adding a new augmented reality feature, called HomeSpotter.
HomeSpotter, a MobileRealtyApps technology, employs augmented reality to overlay property information on a device's live camera feed. As an agent points their iPhone down the street, they see a view of the street and info on all the houses for sale pops up. There's even a radar display that shows the direction and proximity of nearby properties for sale.
"Mobile interaction with our services is an increasingly important requirement for real estate professionals," said John Mosey, president of NorthstarMLS. "The addition of HomeSpotter to MobileRealtyApps' smartphone and tablet solution suite is another example of how NorthstarMLS empowers our customers with best-in-class resources to better serve their customers."
The NorthstarMLS app, originally launched in early 2011, is available for iPhone, iPad, Android, and BlackBerry and is offered as a core member benefit to all of its subscribers. The NorthstarMLS app features full integration with CoreLogic® Matrix™, providing subscribers access to their existing saved searches, contacts, and carts. The app also features integration with BookAShowing™, allowing busy professionals to quickly schedule showings on the go.
HomeSpotter has been available in various real estate broker apps for a few months, but NorthstarMLS is the first MLS to deploy the technology. HomeSpotter is the only readily available solution for the real estate industry that allows any broker or MLS to have their own augmented realty app.
Visit HomeSpotter.com for more information and a video demonstration. MobileRealtyApps provides a complete mobile solution to brokers and MLSs, featuring apps for iPhone, iPad, Android, and BlackBerry, QR codes, and text and voice response solutions. Founded in 2009 by Aaron Kardell and based in Minneapolis, MobileRealtyApps has worked with various brokers and MLSs including NorthstarMLS, Bob Parks Realty, Counselor Realty, and Better Homes & Gardens Area Leaders.
NorthstarMLS serves more than 13,000 REALTORS® in Minnesota and Western Wisconsin. The NorthstarMLS system conducted more than $10 billion of real estate transaction volume in 2011, giving customers access to more than 57,000 Active listings, more than 1.2 million comparable and Sold properties, and 2.79 million property records from 87 Minnesota and 3 Wisconsin counties.
NorthstarMLS is owned and operated by the Regional Multiple Listing Service of Minnesota, Inc. (RMLS) under a mandate to develop and deliver excellence in the technologies, data resources, programs and policies that support its subscribers in the performance of professional real estate practice.
###