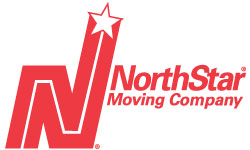 "We are very excited to add NorthStar Moving to our list of green moving companies," said Ada Vassilovski, MyMove.com's VP of Online Marketing.
Los Angeles, CA (PRWEB) June 11, 2013
NorthStar Moving® Company, the leading award winning eco-luxury mover in California, announced today that it has been named one of the top seven eco-friendly moving companies in America by MyMove.com.
MyMove.com, the resource for stress-free moving, reached out to moving companies across the country, both those that operate nationally and locally, to see whose green practices stood out. NorthStar Moving was selected as one of the top seven in the entire country leading the way in eco-friendly moving for its commitment to their green efforts in their moving services as well as through their community outreach. In addition to the company's entire fleet of moving trucks running on bio-diesel fuel, use of eco-bubble wrap, a green storage facility with efficient lighting and space usage, discounts for clients that re-use and return boxes, and much more, the company has partnered with several organizations in efforts to reduce waste. For instance, NorthStar Moving collects customers' used furniture and donates them to Habitat for Humanity Restore to provide the pieces to those who need it, and they partner with E-Cycle Environmental to domestically recycle computers, televisions, batteries and a plethora of other electronic and large bulky items that are often discarded during the moving and organizing process.
"We are very excited to add NorthStar Moving to our list of green moving companies," said Ada Vassilovski, MyMove.com's VP of Online Marketing. "It is great to see NorthStar Moving taking actions to reduce their carbon footprint and we hope that others may follow their lead."
"We are thrilled and honored to be recognized by MyMove.com for all of our work to maintain an environmentally-sound method of business and community. Being green is at the heart of our company," said Co-Founder of NorthStar Moving Laura McHolm. "It's especially gratifying to receive this recognition from an organization that knows the moving industry inside and out. Each and every day we work closely with our clients to green their moves and conduct every aspect of our business as environmentally conscious as possible. We're green because we're selfish, it's our only planet and we love it here."
In addition to being recognized by MyMove.com, NorthStar Moving has been named an official supporter of the Sustainable Forestry Initiative (SFI) for their use of moving boxes certified to the SFI Certified Sourcing standard, using fiber from responsible and legal sources, the company received the Signature Award for Best Use of Green Practices by the California Apartment Association of Los Angeles, and has worked with Global Green, the Hollywood Green Team that advises organizations on how to be greener, and NorthStar Moving continues to donate to non-profit partnerships to aid the green cause.
About NorthStar Moving
Founded in 1994, Los Angeles-based NorthStar Moving® Company has redefined the moving industry as the first to offer eco-luxury moving services, elevating basic moving and storage services to a new unparalleled level of customer service, customized care and environmental consciousness. Honored with more awards for service than any other moving company: "A+" rated by the Better Business Bureau, voted Citysearch "Best Mover," earned the most five star ratings on Trustlink and Yelp, and recipient of dozens of awards for corporate culture, green practices, community outreach, and growth including multiple "Best Places to Work" awards and ranked on the Inc. 5,000 list for the fastest growing companies in the U.S. for six consecutive years. The company's local, long distance and international moving, storage services, and eco-luxury packages have been featured in leading magazines including The Robb Report Collection and on multiple home and design television shows. NorthStar Moving has proven the state-of-the-art way to move is with its red carpet service, recommended by Coldwell Banker Concierge, The Franklin Report, MovingInsurance.com, The Getty Museum, and an impressive list of celebrity clientele. NorthStar Moving's mission is to exceed their clients' expectations with graceful customer care and to move service back into what should have always been the ultimate service industry: the moving industry. For more information, please visit http://www.NorthStarMoving.com or call (800) Ask-Pros (800) 275-7767.
About MyMove.com
MyMove.com is the resource for stress-free moving. My Move offers stress-busting checklists, reminders, tools, inside tips and deals to the 40 million people who move homes each year in the U.S. Moving is the #1 cause of stress among planned life events (getting married, having a baby, starting college), and MyMove.com's daily moving deals and stress-busting resources save people a truckload of cash and anxiety before, during and after the move. MyMove.com is independently owned and operated by Imagitas, Inc. out of Waltham, Mass.