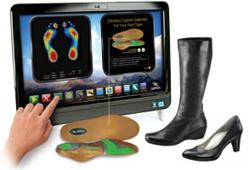 "Aetrex makes high quality footwear and orthotics with numerous benefits such as reduced joint stress, better body alignment, and increased stability," says Dr. Ronica Holcombe, Podiatrist at North Texas Foot & Ankle
Irving, Texas (PRWEB) December 06, 2012
The leading Irving podiatrists at North Texas Foot & Ankle are proud to offer iStep, the revolutionary digital foot scanning technology produced by Aetrex, which immediately matches patients with the ideal shoes and orthotics for their feet.
In less than 30 seconds, Aetrex's iStep technology accurately measures foot size, determines arch type and pressure points. The patented foot scanning technology is powered by 3,744 gold plated barometric sensors that measure the pressure exerted by feet. Due to a high concentration of censors, the device can perform a precise reading even for a small child. Incorporating 1,326 infrared LEDS and Receptors that are aligned every half millimeter, the iStep provides unmatched accuracy when measuring feet.
Upon measuring, the iStep immediately suggests custom selected footwear and types of orthotics to best suit the patient's individual footwear needs. iStep provides custom selected solutions to help people lead healthy and active lifestyles.
North Texas Foot & Ankle proudly offers therapeutic, casual, dress, sandal, and athletic footwear from Aetrex. Aetrex's latest fall/winter footwear line is available in the North Texas Foot & Ankle office. The newest styles from Aetrex include pumps, booties, tall boots, and slip-ons that combine fashion, comfort, and customization.
"Aetrex makes high quality footwear and orthotics with numerous benefits such as reduced joint stress, better body alignment, and increased stability," says Dr. Ronica Holcombe, Podiatrist at North Texas Foot & Ankle, "And their shoes are very stylish—which is something that hasn't been offered by many other pedorthic footwear companies."
North Texas Foot & Ankle will help scan patients' feet to determine foot pressure and type, arch height, and shoe size. North Texas Foot & Ankle's podiatry specialists will consider the results in addition to the patient's weight, running goals, and injury history in order to help pick out a few pairs for them to try. Patients can then pick the pair that is the most comfortable to them.
Visit North Texas Foot & Ankle to have your foot scanned today! Call (214) 574-9255 to make an appointment or request one online.
About North Texas Foot & Ankle
Started in 2001, North Texas Foot & Ankle specializes in treatment of all foot and ankle disorders. The team of board-certified doctors and trained office staff work together to provide individualized attention and treatment, as well as to maintain lasting relationships with patients. Offering a comfortable environment equipped with cutting-edge podiatric technology, North Texas Foot & Ankle provide treatments for children, adults and seniors. North Texas Foot & Ankle continues to raise the standards of foot and ankle care in a friendly and professional atmosphere with uncompromised integrity. Visit http://ntfoot.com for more information, or like North Texas Foot & Ankle on Facebook at http://facebook.com/ntfoot.