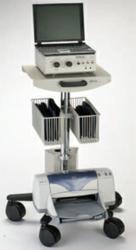 "All too often symptoms of claudication (cramping) or rest pain are overlooked or ignored by patients. They are mistaken for 'muscle aches' or 'old age,'" says Dr. Ronica Holcombe
Irving, Texas (PRWEB) February 26, 2013
North Texas Foot & Ankle's leading Irving Podiatrists are pleased to offer non-invasive testing for Peripheral Arterial Disease for patients with diabetes or risk factors such as high blood pressure and smoking.
Peripheral Arterial Disease is a hardening of the arteries that occurs when blood vessels in the legs are narrowed or blocked by fatty deposits, decreasing blood flow to feet and legs. Patients with PAD have an increased risk for heart attack and stroke.
The American Diabetes Association estimates that one out of every three people with diabetes over the age of 50 have peripheral arterial disease, but many of those with warning signs don't realize they have the condition and are not treated.
"All too often, symptoms of claudication (cramping) or rest pain are overlooked or ignored by patients. They are mistaken for 'muscle aches' or 'old age,'" says Dr. Ronica Holcombe, Podiatrist at North Texas Foot & Ankle, "PAD testing is a simple and effective way to determine whether these symptoms are associated with decreased blood flow in the extremities."
Risk factors for Peripheral Arterial Disease include diabetes, smoking, abnormal blood cholesterol, family history of heart disease, and more. Possible signs and symptoms of the disease include discomfort in feet, calves, or thighs, pain when resting your legs or feet, and skin wounds that are slow to heal.
The podiatry specialists at North Texas Foot & Ankle conduct tests to detect Peripheral Arterial Disease. The test records pressure measurements by placing cuffs around a patient's arms, calves, ankles, and above the knees. The patient's pulse is taken and heart rate monitored. The test is non-invasive and patients can resume normal activities immediately.
North Texas Foot & Ankle notifies patients of results within 24-48 hours. Request an appointment with North Texas Foot & Ankle to be tested for Peripheral Arterial Disease by calling (214)-574-9255 or learn more at our website: http://ntfoot.com.
About North Texas Foot & Ankle
Started in 2001, North Texas Foot & Ankle specializes in treatment of all foot and ankle disorders. The team of board-certified doctors and trained office staff work together to provide individualized attention and treatment, as well as to maintain lasting relationships with patients. Offering a comfortable environment equipped with cutting-edge podiatric technology, North Texas Foot & Ankle provide treatments for children, adults and seniors. North Texas Foot & Ankle continues to raise the standards of foot and ankle care in a friendly and professional atmosphere with uncompromised integrity. Visit http://ntfoot.com for more information, or like North Texas Foot & Ankle on Facebook at http://facebook.com/ntfoot.