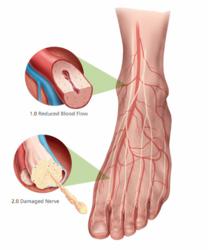 "I have found nerve decompression to be very beneficial for diabetics with neuropathy pain," says Dr. Holcombe
Irving, Texas (PRWEB) April 01, 2013
The leading podiatry specialists at North Texas Foot & Ankle are proud to announce that the practice's founding doctor, Ronica Holcombe, DPM, is certified in performing the innovative Peripheral Nerve Decompression Surgery. Dr. Holcombe performs surgical procedures at Irving Coppell Surgical Hospital, which was recently ranked in the top ten best hospitals in the country by The Centers for Medicare and Medicaid Services (CMS).
Peripheral Nerve Decompression Surgery was developed by Dr. Lee Dellon, Professor of Neurosurgery and Plastic Surgery at John Hopkins University, who discovered that nerves were subject to compression and swelling in areas that were anatomically tight, including the inside of the ankle, which caused symptoms of neuropathy. Diabetic Neuropathy is a disease affecting the nervous system where the consistent high blood sugar levels of diabetics causes damage to nerves in the body.
Peripheral Nerve Decompression Surgery opens the tight area through which the nerve affected by neuropathy passes by, dividing a ligament that crosses the nerve. The opening allows blood to flow better in the nerve by giving the nerve more room, permitting the nerve to glide with movements of nearby joints.
North Texas Foot & Ankle podiatrist, Dr. Holcombe, is proud to be certified in this innovative procedure.
"I have found nerve decompression to be very beneficial for diabetics with neuropathy pain," says Dr. Holcombe, "The procedure is most successful in patients with consistent symptoms of burning or tingling pain that are not fully controlled by traditional medications or creams/therapy but have not yet progressed to severe stages of neuropathic disease."
Peripheral Nerve Decompression Surgery typically takes about one hour, with an additional hour of recovery time. Patients may experience temporary hot or cold sensations or shooting pain in their toes, because the nerves have been awakened from "sleep." This is an indication of recovery and pain medication is available to reduce discomfort.
Most recent studies show that 80-90% of those diabetic patients who have had a nerve decompressed have had decreased pain and improved sensory and motor function with improved balance.
While there is currently no method to cure diabetic neuropathy, methods of treatment to manage pain and prevent nerve damage associated with the disease are available.
To learn more about Peripheral Nerve Decompression Surgery and other Diabetic Neuropathy treatments, call North Texas Foot & Ankle at (214)-574-9255 visit http://ntfoot.com.
About North Texas Foot & Ankle
Started in 2001, North Texas Foot & Ankle specializes in treatment of all foot and ankle disorders. The team of board-certified doctors and trained office staff work together to provide individualized attention and treatment, as well as to maintain lasting relationships with patients. Offering a comfortable environment equipped with cutting-edge podiatric technology, North Texas Foot & Ankle provide treatments for children, adults and seniors. North Texas Foot & Ankle continues to raise the standards of foot and ankle care in a friendly and professional atmosphere with uncompromised integrity. Visit http://ntfoot.com for more information, or like North Texas Foot & Ankle on Facebook at http://facebook.com/ntfoot.