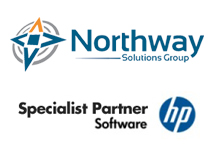 Leading the way in global Software Quality Management is our standard, making sure our current and future clients realize this is our goal
Nashville, TN (PRWEB) November 15, 2011
Northway Solutions Group, a leading consulting organization for HP software products, announced today that it has been designated as a Specialist status in the Software Business Partner Program. This partnership status (formerly known as "Elite") spotlights the impressive growth of Northway and serves to strengthen the existing relationship between the two companies.
Excited at the prospects, President & CEO Scott Moore says, "Our commitment to providing 'no frills' value and service is solid and our clients understand and appreciate that. Now we are taking that promise to a new level by acting as strategic partners, and leveraging a deeper relationship with HP. New and existing clients will benefit tremendously as we 'raise the bar' by implementing new products and services."
The new partnership status enables Northway Solutions Group to expand its service offerings beyond specific HP software product sales to full-service solutions. This includes implementation, consulting and training for the entire HP product line. Prashant Satoskar, Vice President of Services, had this say about the expanded capabilities. "This deeper relationship with HP helps to strengthen our current capabilities in the quality management and testing practice, and then helps us expand beyond that into new areas. Leading the way in global Software Quality Management is our standard, making sure our current and future clients realize this is our goal."
About Northway Solutions Group
Northway Solutions Group is a technology solution provider that provides consulting services around HP's software product lines. The company is a Specialist Partner and reseller for HP Software products, with core services in the Application Lifecycle Management (ALM) space, which includes Project and Portfolio Management, Quality Center, Performance Center, LoadRunner, Application Security Center, and Business Service Management. Northway employs certified consultants with real-world experience that provide long-term solutions to the toughest business challenges. This includes providing training and implementation services.
###