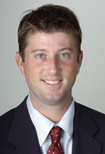 The only way to improve in tennis is to put time in on and off the court.
San Rafael, CA (PRWEB) February 15, 2012
US Sports Camps coach Arvid Swan explains, "The only way to improve in tennis is to put time in on and off the court. As a junior player gradually improves and physically matures, the time spent on and off the court can increase. On the court, the focus should be a mix of technique, drilling and live situational play. Off the court, the player needs to work on speed, flexibility and power. Tennis is a unique sport that requires explosive movements in all directions for short periods of time with little rest in between points. A fitness plan should address the physical requirements of the sport."
Arvid Swan is entering his fifth season as the head coach of Northwestern University's men's tennis team. Swan's impact on the program has been immediate as he led the 2009 Wildcat squad to NU's first NCAA tournament appearance since 2005.
In his second season, Swan guided a team that finished the 2008 season unranked and last in the Big Ten to a 2009 year-end ranking of No. 46 in the nation and a tie for fourth in the Big Ten regular season standings with a 6-4 league mark. The team improved from 7-17 to 18-9 in just one year and enjoyed the highest jump in the national rankings over a one-year period (as high as No. 42) of any team in Division I, the second time in Swan's career that his team has earned that distinction.
In 2009-10, Swan helped Northwestern achieve its highest ranking in five seasons (No. 36) when the Wildcats upset then-No. 18 Alabama, 4-3, on Jan. 22. To get more tips and instruction from Arvid, check out his Nike Junior Tennis Camp at Northwestern University and Nike Adult Tennis Camp at Northwestern University.
Nike Tennis Camps offer junior and adult overnight and day camps at 73 locations nationwide. The camps provide first-rate instruction, match play, diversified social activities, exposure to life in a university setting – and the chance to build lasting friendships. Our goal is to give players the opportunity to hit thousands of balls, improve their technique, and be challenged by some of the best players in their peer group.
About US Sports Camps
US Sports Camps (USSC), headquartered in San Rafael, California, is America's largest sports camp network and the licensed operator of NIKE Sports Camps. Founded in 1975, Nike Tennis Camps is a division of US Sports Camps. What began 37 years ago as one tennis camp is now a national network with more than 500 camps across the country in a wide variety of sports. Players, coaches, parents and others interested in Nike Tennis Camps and US Sports Camps can phone 1-800-NIKE-CAMP or visit the company's website at http://www.ussportscamps.com.
###