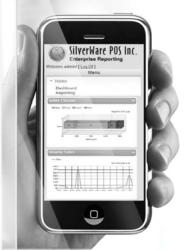 NORTHWIND and Silverware partnered to take our best of breed products and tightly integrate them in a way that surpasses customary system interfaces.
(PRWEB) September 12, 2012
NORTHWIND-Maestro PMS is the preferred solution provider for hundreds of high-touch independent operators and hotel groups. NORTHWIND now delivers the highest level of guest service thorough its partnership with respected Point of Sale provider SilverWare. Award-winning SilverWare POS' Avrio solution fully integrates with the Maestro Property Management System (PMS) for convenience, efficiency, and 360 guest service. SilverWare POS was voted #1 POS Software in the Readers' Choice Awards for three consecutive years by the readers of Foodservice News and was featured by Microsoft in a launch video and its Momentum magazine for its early adoption of next wave technology.
"NORTHWIND and SilverWare partnered to take our best of breed products and tightly integrate them in a way that surpasses customary system interfaces," said NORTHWIND-Maestro President, Warren Dehan. "Our integration performs normal processes, such as room charges and voucher lookups, but extends beyond that with integrated client synchronization, server alerts on guest status like same-day checkout, as well as message waiting, and meal plans. The integration also fully supports the Maestro gift card, guest loyalty programs." The integrated systems share data from food and beverage outlets and retail stores for one hotel or a multi-property group for accounting accuracy and simplification of charge detail verification, revenue posting, and reporting.
'Seamless integration between Maestro and SilverWare enables us to increase revenue'
YMCA of The Rockies operates two multi-hotel properties. Its Estes Park Center has a guest capacity of more than 3,500 with 10 hotels and just over 215 cabins and vacation homes. "We use Maestro Multiproperty PMS and SilverWare Avrio POS across our entire operation. NORTHWIND's team listened to our needs and created a very efficient solution," said YMCA of The Rockies Center Controller/IT, Jim Boyd. "The seamless integration between Maestro and SilverWare enables us to increase revenue because we track and categorize revenue from every guest charge at every outlet to easily identify and optimize our most valuable profit centers."
Detailed Maestro – Avrio reporting is essential to assess future growth opportunities
"Avrio SilverWare helped our Food Services Director track Pizza sales in this, our first year to offer take-out Pizzas for guests," Boyd said. "The systems also provided valuable reporting for our General Store manager by showing grocery sales were a much higher percentage of total sales than expected. This kind of detailed reporting is invaluable in determining future growth opportunities and identifying which inventory to consider expanding and which to rein-in or eliminate."
'The Maestro – SilverWare integration enables us to run more efficiently'
Water's Edge Resort & Spa is an elegant A-list beachfront property overlooking Long Island Sound in Westbrook, CT. The resort relies on the Maestro SilverWare solution in its fine dining restaurant, Cappuccino's Coffee Bar, Sunset Bar and Grill, and its Seaview Bistro and Martini bar. "NORTHWIND understands the needs of independent operators. The integrated Maestro and Avrio POS solution simplifies many of our accounting processes and enables us to run more efficiently. The integration lets us use one ledger and show all property revenue on one report," said Water's Edge Controller Heather Hennessey. "Avrio shares data with Maestro to record and show POS posting detail and provide an image of each guest check with incidentals and the ticket number. This helps guests remember what they charged if there is a question. The integration also shows our servers each guest's credit limit to postpone posting until a guest extends their credit. As the property controller, I value the way the systems exchange data to show revenue breakout by profit center. This simplifies property accounting and benefits property operations."
Maestro and Avrio POS share a common database
SilverWare's Avrio POS integrates with Maestro's Front Office, Membership, Condo and Owner Management systems, and will soon support integrated table reservations. The Maestro and SilverWare systems share a common NORTHWIND Microsoft SQL database that ensures client data is secure. The systems also handle robust data-sharing requirements, including those of PCI.
At IHM&RS in New York November 10–13, visit NORTHWIND-Maestro at booth # 2850
For a demo of the Maestro Property Management Suite featuring the ResWave Booking Engine, please contact NORTHWIND at 1.888.667.8488 or email info(at)maestropms(dot)com.
Exchange ideas and connect with NORTHWIND on:
Twitter, Facebook, and LinkedIn
Maestro Property Management Solution
Enhance guest service, improve efficiency and maximize online and offline revenue with Maestro PMS, the industry's most robust and flexible resort software and boutique hotel software solution empowering leading full-service hotels, luxury resorts, multi-property groups, conference centers, condominiums and timeshare properties. Solutions include Front Office (PMS), Accounts Receivable, Analytics and Business Intelligence, Sales and Catering, Multi-Property Management, Condo and Timeshare Owner Management with Web Functionality, Spa and Activities, Web Booking Engine, Real-Time Yield Management, Dynamic Packaging Golf, CRM, Guest Experience Measurement, CRO, GDS Two-Way XML Connectivity or Integration, Membership, Work Orders, Fine Dining and Retail POS, Online Table Reservations with Web Booking, Concierge and Guest Experience Measurement. The Maestro PMS is database independent (ODBC Compliant) and is deployed via Windows, UNIX, Linux, Terminal Services, hosted and Web platforms.
About NORTHWIND – Maestro PMS
NORTHWIND is recognized in the hospitality industry for its "standard setting" Diamond Plus Service and robust integrated Maestro resort hotel software technology. With over 30 years experience dedicated to developing technology solutions for the hospitality industry, NORTHWIND is a partner who understands you need a scalable, flexible PMS that works the way you do. Maestro applications are engineered for operators who need to manage their enterprise in a real-time environment for the utmost operational efficiency, productivity, control and profitability.