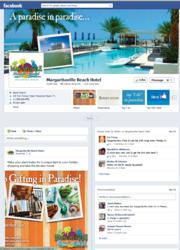 Maestro's ResWave booking engine lets our Facebook fans take advantage of promotions and reserve rooms without leaving the page.
(PRWEB) November 07, 2012
The secret to success in the destination travel world is going 'social.' If you combine a popular Facebook presence with one-click direct room booking, you are golden. No one has a more entertaining and effective online presence – with 25,000+ Facebook 'likes' – than the Jimmy Buffet-branded Margaritaville Beach Hotel on the white-sand shores of Pensacola Beach, Florida.
Margaritaville Beach's online presence has grown steadily since its 2010 opening. The property's website and Facebook pages showcase its laid-back tropical resort atmosphere and offer promotions that include rooms, entertainment, and family activities that supplement its reputation for spirited nightlife. Margaritaville Beach Hotel uses the Maestro Property Management System (PMS) and ResWave online booking engine to enable guests to check availability and reserve rooms directly from the property's social media webpages and hotel website.
"More than half of our reservations come through our ResWave online booking engine that enables guests to book directly with us. This makes booking easy and fast without third-party booking fees," said Margaritaville Beach Hotel General Manager, Joe McCay. "We plan our promotions around our online presence. Most of our guests use the Internet to make their vacation decisions, so we create promotions that are only available online to keep our fans checking the site for new offers."
"Party with a purpose" leverages Maestro and social media to help guests give back
"Our Facebook page is very popular so we post lots of social media promotions there," McCay said. "A common misconception is that Margaritaville Beach Hotel is strictly a party venue. But many of our online promotions raise money to support important causes. We call this 'Party with a Purpose.' We create fun ways for guests to help others. Maestro's ResWave booking engine lets our Facebook fans take advantage of promotions and reserve rooms without leaving the page."
Destination resort with a 'heart of gold'
Recent social media promotions that gave guests the opportunity to support humanitarian causes included Margaritaville's "Bras Across the Bridge" Pink Party to promote breast cancer awareness. The property also hosted a "Sand 5K and SUP" race to benefit the Humane Society of Pensacola and the Wildlife Sanctuary of Northwest Florida. "We almost always tie our events to a good cause," McCay said.
Room availability on the hotel's website and social media pages is always accurate because Margaritaville's Maestro PMS is fully integrated with its ResWave booking engine. Maestro is also networked with the property's outlets so all guest activities and charge postings are accurate and stored in Maestro's database enabling the property to deliver service that exceeds expectations.
Margaritaville Beach Hotel ties its highly-effective online promotion strategy to continuous personalized follow up with guests so the property understands what is important to its customers. "More than half of our reservations come through our ResWave online booking engine allowing guests to book directly with us. This makes booking easy and fast," McCay said. "We include a 'how did you learn about us' field on our Maestro reservation page that helps us understand which of our booking channels are the most valuable. This information enables us to develop stronger online marketing programs that increase occupancy and revenue."
At IHM&RS in New York November 10–13, visit NORTHWIND-Maestro at booth # 2850
For a demo of the Maestro Property Management Suite featuring the ResWave Booking Engine, please contact NORTHWIND at 1.888.667.8488 or email info(at)maestropms(dot)com.
Exchange ideas and connect with NORTHWIND on Twitter, Facebook, and LinkedIn
Maestro Property Management Solution
Enhance guest service, improve efficiency, and maximize online and offline revenue with Maestro PMS, the industry's most robust and flexible resort software and boutique hotel software solution empowering leading full-service hotels, luxury resorts, multi-property groups, conference centers, condominiums, and timeshare properties. Solutions include Front Office (PMS), Accounts Receivable, Analytics and Business Intelligence, Sales and Catering, Multi-Property Management, Condo & Timeshare Owner Management with Web Functionality, Spa and Activities, Web Booking Engine, Real-Time Yield Management, Dynamic Packaging Golf, CRM, Guest Experience Measurement, CRO, GDS Two-Way XML Connectivity or Integration, Membership, Work Orders, Fine Dining and Retail POS, Online Table Reservations with Web Booking, Concierge, and Guest Experience Measurement. The Maestro PMS is database independent (ODBC Compliant) and may be deployed via Windows, UNIX, Linux, Terminal Services, hosted, and Web platforms.
About NORTHWIND – Maestro PMS
NORTHWIND is recognized in the hospitality industry for its standard-setting Diamond Plus Service and robust integrated Maestro resort hotel software technology. With over 30 years' experience dedicated to developing technology solutions for the hospitality industry, NORTHWIND is a partner who understands you need a scalable, flexible PMS that works the way you do. Maestro applications are engineered for operators who need to manage their enterprise in a real-time environment for the utmost operational efficiency, productivity, control, and profitability.
About Margaritaville Beach Hotel
Inspired by the lyrics and lifestyle of Jimmy Buffett, the hotel's sense of place and attention to detail make it the perfect setting for guests who want to escape the everyday, engage their senses, and make lasting memories. Anyone who has ever dreamed of escaping to a tropical island and sipping a margarita will enjoy being immersed in the Margaritaville experience at this hotel. The Margaritaville Beach Hotel in Pensacola Beach sits on more than 800 feet of gulf-front property. An additional 800 feet overlook the bay. The new beachfront hotel features 'barefoot elegance' with 162 newly appointed guest rooms, including 24 Corner King Executive rooms with wrap-around balconies.