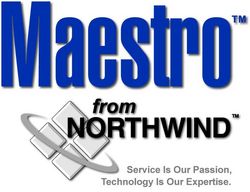 Independent hotels, boutique resorts and property groups select Maestro for its effective, reliable technology tools that enable operators to successfully compete with large chains
Markham, ON (PRWEB) June 11, 2008 -
NORTHWIND-Maestro PMS, provider of Maestro Enterprise Property Management hotel software and reservation software solutions for the hospitality industry, announced that 14 properties, including seven full-service independent resorts and a seven-property hotel company, selected the Maestro Property Management Suite in the second quarter of 2008. Properties will install a variety of Maestro's 20 fully integrated modules that increase online and offline revenue, improve staff productivity, enhance guest service and boost operating efficiency.
New NORTHWIND-Maestro clients include the 574-room Hotel Captain Cook, Anchorage's only true luxury hotel; The Waterfront Place, a 250-room, full-service luxury boutique in West Virginia, the Cooper Guest Lodge Hotel, Conference Center and Spa in Dallas, Texas; the Highbourne Cay Marina Resort on Exuma, Bahamas; The Manoir Saint Sauveur luxury 4-Star resort in the Laurentians; and Smokey Mountain Resorts Hospitality Group with seven hotels comprising over 750 rooms. Smokey Mountain will benefit from the Maestro Multi-Property Management Suite with Front Office, Yield Management, Condo-Timeshare Management and Sales and Catering on Maestro's single-image database at all seven of their hotels located in the heart of tourist-rich Tennessee.
Web Connection gives independent operators competitive edge
New clients cited NORTHWIND's service and understanding of the unique needs of independent properties, chains and boutique hotels, as well as Maestro's integrated technology and its online booking tools as reasons they selected Maestro. The Maestro Web Connection online suite enables independent properties to compete effectively against large flagged hotels by developing and deploying revenue-optimized online marketing programs across all Internet channels. Web Connection online service capabilities include:

Dynamic Package Management
Proactive Yield & Rate Management
2-Way GDS
Group Rooming List Management
360 degree Guest Preference Tracking
ResWave Online Booking Engine
Centralized Management Controls
Condo-Timeshare Owner Account Access
Online Dining Table Reservation Management
SMS PDA Communications to Reach Traveling Guests
Independent operators value Reliability, Stability and Diamond Plus Service
"Independent hotels, boutique resorts and property groups select Maestro for its effective, reliable technology tools that enable operators to successfully compete with large chains," said Warren Dehan, president of NORTHWIND-Maestro PMS' US operations. NORTHWIND's industry standard-setting Diamond Plus Service provides 24/7 professional system support by experienced hospitality personnel and offers a variety of training options enabling clients to find the right training and education to meet their unique needs, including:

Free Web-based transition assistance for newly trained staff for three months after Maestro is installed (scheduled regularly)
Personalized online training classes, webinars and DVDs
Professional operations consulting services
"Many of our new users tell us that for independent properties that do not have the luxury of a large corporate IT staff, the best technology is the one with the most up-time," Dehan noted. "Maestro's dependable single-image database technology has proven itself in large and small operations and is considered the most reliable system platform in the industry. This and Maestro's personalized professional service are what enable NORTHWIND to deliver the most reliable systems and service that helps its users be more successful."
With over 30 years of experience dedicated to developing technology solutions for the hospitality industry, NORTHWIND had earned a reputation as a partner who understands that operators need a robust and flexible PMS that works the way they do. Because every company has different goals and operates uniquely, Maestro's functionality, scalability and features are customized to enable hoteliers to better manage their properties and greatly enhance service capabilities
To learn how to leverage the Maestro PMS to increase online revenue, read the NORTHWIND-Maestro Web Connection White Paper
HITEC Conference attendees are invited to participate in a "Web Connection" Exhibitor Tutorial presented by Warren Dehan on Wednesday, June 18, from 1:30 - 2:00 p.m. in Tutorial Room A at the HITEC exhibit hall.
Maestro Property Management Suite
The Maestro Suite is comprised of more than 20 integrated modules on a single-image database for centralized, real-time full property automation, providing a 360-degree guest view at every point of contact. Solutions include Front Office (PMS), Accounts Receivable, Analytics and Business Intelligence Tools, Sales and Catering, Multi-Property Management, Condo Owner Management with Web Functionality, Timeshare Owner Management with Web Functionality, Spa and Activities, Club Membership, Yield Management, Golf Course, CRM, Central Reservation Office, Corporate Enterprise Management, GDS Two-Way XML Connectivity or Integration, ResEze Web Booking Engine, Work Orders, Fine Dining and Retail POS, Table Reservations with Web Booking, Concierge and Guest Experience Measurement. The Maestro PMS is database independent (ODBC Compliant) and may be deployed via Windows, UNIX, Linux, Terminal Services, hosted and Web platforms.
About NORTHWIND - Maestro PMS
NORTHWIND is recognized in the hospitality industry for its "standard setting" Diamond Plus Services and state-of-the-art Maestro technology. The company is respected for being a long- term partner that understands how to help you boost productivity and strengthen management control for your hotel, resort, conference center or multi-property group by providing flexible solutions that increase productivity and maximize ROI. With a network of dealers and offices worldwide, NORTHWIND is a leading supplier of software for all types of hospitality operations including hotels, resorts, timeshares, condominiums, retreats, state parks and clubs. Maestro applications are engineered for operators who need to manage their enterprise in a real-time environment for the utmost operational control and profitability. NORTHWIND is empowering over 8000 users worldwide by delivering the industry's most scaleable, flexible and advanced property management solution suite with more than 20 robust Maestro modules.
Contact:
NORTHWIND - Maestro PMS, North America
Audrey MacRae - Director, Sales & Marketing
Phone: 905.940.1923
Toll Free: 1-888-667-8488
Email: info(at)maestropms.com
http://www.maestropms.com/HOL?campaign=PRWebNewMaestroUsers08June112008
Maestro PMS Ltd., United Kingdom & Ireland
David Warren - Director of Services and Sales
P: +44 (0) 1293 883918
ukinfo(at)maestropms.com
http://www.maestropms.co.uk
Media Contact
Julie Squires
Softscribe Inc.
Phone: 404-256-5512
Email: Julie(at)softscribeinc.com
http://www.softscribeinc.com
###