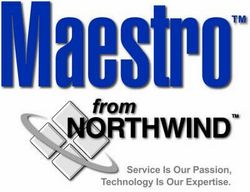 Lonrho Hotels believes in the value of cutting edge centralized property management technology to maintain its leadership role; this is why we selected the Maestro Multi-Property Management Suite
Markham, Ontario (PRWEB) January 7, 2009
NORTHWIND-Maestro PMS, provider of Maestro™ Enterprise Property Management hotel software and reservation software solutions for the hospitality industry, announced Lonrho Hotels will standardize property management automation on the Maestro Multi-Property Management Suite for four properties in 2009, with others across Africa to follow. Lonrho will install Maestro Front Office, Yield Management, Sales & Catering, and the ResEze online booking engine in its first property, the 200-room Grand Karavia Hotel in Lubumbashi, Democratic Republic of the Congo, in early 2009.
"Lonrho Hotels believes in the value of cutting edge centralized property management technology to maintain its leadership role; this is why we selected the Maestro Multi-Property Management Suite," said David Church, group operations manager for Lonrho PLC - Hotels. "Our hotels are positioned in markets with a strong group business potential and offer an attractive destination. Maestro's Multi-Property technology, Group Management module and Yield Management system will enable our hotel teams to cross sell availability and be more productive. Our properties will be more profitable with Maestro's centralized controls." Lonrho's Grand Karavia Hotel is taking reservations now and is scheduled to open in mid 2009.
Balanced Maestro group and leisure functionality surpasses Lonrho's needs
The Maestro Property Management Suite's balance of robust group and leisure capability delivers easy-to-use functionality. Church said Maestro's advantages for Lonrho Hotels include:

Excellent multi-property management and control on one database
Yield Management to optimize revenue for groups and resort guests
Integrated Sales & Catering to automate meeting room booking and sales
ResEze online booking engine to drive Internet reservations.
"International companies like Lonrho Hotels rely on NORTHWIND's versatile Maestro technology to support expansion," said Warren Dehan, president of NORTHWIND-Maestro PMS. "NORTHWIND provides professional 24/7 Diamond Plus support for its users around the world from its international offices in North America. The globalization of hospitality is a reality and Maestro's reliable, flexible hotel software is meeting the needs of operators and chains in many countries."
About Lonrho Hotels Plc.
Lonrho Hotels is a specialist hospitality management company, specializing in the management and marketing of Hotels & Safari Lodges within Africa. The company is wholly owned by the multinational and diversified British based Lonrho Plc with head offices in Johannesburg and maintains a long and illustrious history in the hospitality industry. The company has owned and operated hotels and lodges throughout the USA, Britain, Mexico, Caribbean, Mauritius and Africa, which included, amongst others, the Princess and Metropole group of hotels and has developed a thorough understanding of the key principals required to successfully operate facilities in this sector of the market.
Maestro Property Management Solution
Enhance guest service, improve efficiency and maximize online and offline revenue with Maestro PMS, the industry's most robust and flexible solution empowering leading full-service hotels, luxury resorts, multi-property groups, conference centers, condominiums and timeshare properties. Solutions include Front Office (PMS), Accounts Receivable, Analytics and Business Intelligence, Sales and Catering, Multi-Property Management, Condo & Timeshare Owner Management with Web Functionality, Spa and Activities, Web Booking Engine, Real-Time Yield Management, Dynamic Packaging Golf CRM, Guest Experience Measurement, CRO, GDS Two-Way XML Connectivity or Integration, Membership, Work Orders, Fine Dining and Retail POS, Online Table Reservations with Web Booking, Concierge and Guest Experience Measurement. The Maestro PMS is database independent (ODBC Compliant) and may be deployed via Windows, UNIX, Linux, Terminal Services, hosted and Web platforms.
About NORTHWIND - Maestro PMS
NORTHWIND is recognized in the hospitality industry for its "standard setting" Diamond Plus Service and robust integrated Maestro technology. With over 30 years of experience dedicated to developing technology solutions for the hospitality industry, NORTHWIND is a partner who understands that you need a scalable and flexible PMS that works the way you do. Maestro applications are engineered for operators who need to manage their enterprise in a real-time environment for the utmost operational efficiency, productivity, control and profitability.
Contact:
Lonrho Hotels
Unit 102, 1st Floor Fulham House, Hampton Office Park
20 Georgian Crescent, Bryanston, 2021
Johannesburg, South Africa
Tel: +27 (0) 11 514 0810
NORTHWIND - Maestro PMS, North America
Ivana Johnston - Sales & Marketing
Phone: 905.940.1923
Toll Free: 1-888-667-8488
Email: info (at) maestropms.com
http://www.maestropms.com/HOL?Campaign=PRWebLonrhoHotelsJan72009
NORTHWIND - Maestro PMS Ltd - EMEA, UK
David Warren - Director of Services & Sales
Phone: +44 (0)7877 005080
Email: david.warren (at) maestropms.com
http://www.maestropms.com/HOL
Media Contact
Julie Squires, APR
Softscribe Inc.
Phone: 404-256-5512
Email: Julie (at) softscribeinc.com
http://www.softscribeinc.com
# # #