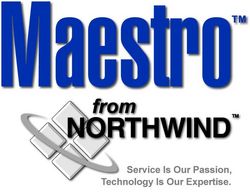 Shift4 provides hotel operators unparalleled flexibility because it is the largest independent payment card processing gateway
Markham, ON (PRWEB) April 14, 2010
NORTHWIND™ and Shift4®, two dominant players in hospitality software and services, have joined forces to offer hoteliers unparalleled security and the ability to utilize any bank or processor that offers the best rates and service without required programming of the property management system (PMS).
NORTHWIND, provider of Maestro™ Enterprise Property Management hotel software and reservation software solutions for the hospitality industry, announced today it partnered with Shift4, a leading developer of enterprise payment solutions, to provide Maestro users with a fully-tokenized interface for payment card processing. Tokenization exceeds the Payment Card Industry's Payment Application Data Security Standard (PA-DSS) compliance requirements and enables operators to choose any payment processor they like to obtain the lowest fees.
Shift4 interface helps Maestro operators save money
Warren Dehan, president of NORTHWIND-Maestro PMS, said, "Our relationship with Shift4 enables Maestro users to implement Shift4's DOLLARS ON THE NET® tokenized payment card processing system with the newest, most secure technology and flexibility. The Shift4 system also lets Maestro clients save money by selecting any bank or processor they feel is best for their business without custom programming." For NORTHWIND's customers using DOLLARS ON THE NET, this equates to lower operating costs and the most secure payment card processing platform.
Shift4's integrated tokenization technology means that no cardholder data (CHD) is stored, transmitted or processed at the property. Maestro clients using Shift4's system will exceed the scope of the PCI PA-DSS security requirements because actual guest cardholder data will not be handled by property systems.
"Shift4 provides hotel operators unparalleled flexibility because it is the largest independent payment card processing gateway," explained Dave Oder, president and CEO at Shift4. "Most of the new end-to-end encryption models and provider-based tokenization schemes limit a merchant's choice of bank or processor. Not Shift4's TrueTokenization, which has been on the market since 2005. With our solution, Maestro users retain the power of choice and can utilize any bank or processor they think is best for their business."
About NORTHWIND - Maestro PMS
Maestro PMS by NORTHWIND is the PCI-certified hospitality system preferred by the industry's most successful independent single and multi-property hotels, boutique hotels, luxury resorts, conference centers, retreats, non-profits, condominium and timeshare properties. NORTHWIND is recognized in the hospitality industry for its "standard setting" Diamond Plus Service and robust Maestro resort hotel software with over 20 integrated modules on single image database. With over 30 years experience dedicated to developing technology solutions for the hospitality industry, NORTHWIND is a partner who goes above and beyond PMS by delivering specialized tools and expert services that enable independent operators to maximize revenue and keep guests coming back. Maestro applications are engineered for operators who need to manage their enterprise in a real-time environment for the utmost operational efficiency, productivity, control and profitability. For a demo of the Maestro Property Management Suite featuring the ResWave Booking Engine, please contact NORTHWIND at 1.888.667.8488 or email info(at)maestropms(dot)com or visit HITEC Booth #523.
About Shift4 Corporation
Shift4, a leading developer of secure financial transaction processing software and services, provides Web-based, real-time enterprise payment solutions for leaders in the hospitality, retail, food services, auto rental and eCommerce markets. Through connectivity to every major processor, DOLLARS ON THE NET provides both high-speed and low-cost authorizations and settlements for credit, debit, check, and gift card transactions. DOLLARS ON THE NET includes the ability to access, review and edit transactions prior to settlement and provides a searchable, 24-month transaction archive for reporting and chargeback defense. For more information, please contact our sales department at (800) 265-5795 or visit shift4.com.
Contact:
NORTHWIND - Maestro PMS
Ivana Johnston - Sales & Marketing
8300 Woodbine Avenue, 5th floor
Markham, ON L3R 9Y7
Canada
Phone: 905-940-1923
Toll Free: 1-888-667-8488
Email: info(at)maestropms(dot)com
http://www.maestropms.com/?Campaign=PRWebShift4April132010
Media Contact:
Julie Keyser-Squires, APR
Softscribe Inc.
180 River Springs Drive NW
Atlanta, GA 30328
Twitter: @Juliesquires
Phone: (404)256-5512
Email: Julie(at)softscribeinc(dot)com
softscribeinc(dot)com
marketingsnacks(dot)com
###