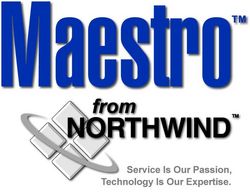 Maestro's self-service kiosks elevates and enriches the service offerings our hotels provide guests
Markham, ON (PRWEB) May 12, 2010
NORTHWIND, provider of Maestro™ Enterprise Property Management hotel software and reservation software solutions for the hospitality industry, today announced it implemented its Maestro Self Service Kiosk at the Harvard Faculty Club which uses the Maestro Front Office Suite. Slow check-in has traditionally been a major guest concern, and these kiosks help to alleviate that concern by offering the best functionality in the industry and providing guests with a myriad of additional choices designed to improve their check-in/check-out process.
The Maestro Kiosk expands Maestro's service focus to provide properties a fully-integrated solution for guest self-serve environments. Maestro's new Kiosk utilizes an easy to use touch screen that enables guests to enter their name or swipe a credit card to identify reservations, capture a signature, and check themselves in. The system also codes room keys and provides guests with a folio receipt. The Maestro Self Service Kiosk is the result of a partnership between NORTHWIND-Maestro PMS and Penn Center Systems, which supplies the touch screen kiosk platform.
"Maestro's self-service kiosks elevates and enriches the service offerings our hotels provide guests," said Warren Dehan, president of NORTHWIND-Maestro PMS. "Guests who want and expect personal service, can use a property's front desk and those travelers who prefer self-serve technology can utilize the kiosk. Many of today's travelers prefer the freedom a kiosk provides and Maestro's new service offering helps hotels meet each guest's expectations."
David Dunn, director of sales and marketing for Penn Center Systems, said, "We partnered with NORTHWIND to develop the Maestro Self Service Kiosk interface. The Harvard Faculty Club is the perfect example where a guest check-in, check-out kiosk fits. Harvard only staffs its front desk during business hours, but faculty members and guests frequently attend University activities and check in much later. The Kiosk lets them easily do this."
NORTHWIND is installing its Maestro Self Service Kiosk at other properties and will demonstrate the system at HITEC 2010 June 22-25 in Orlando, FL Booth #523.
For a demo of the Maestro Property Management Suite featuring the ResWave Booking Engine, please contact NORTHWIND at 1.888.667.8488 or email info[at]maestropms[dot]com.
Exchange ideas and connect with NORTHWIND on:

NORTHWIND will be exhibiting at HITEC 2010 June 22-25 in Orlando, FL Booth #523.
Contact or visit us to find out what our service can do for yours!
Maestro Property Management Solution
Enhance guest service, improve efficiency and maximize online and offline revenue with Maestro PMS, the industry's most robust and flexible resort software and boutique hotel software solution empowering leading full-service hotels, luxury resorts, multi-property groups, conference centers, condominiums and timeshare properties. Solutions include Front Office (PMS), Accounts Receivable, Analytics and Business Intelligence, Sales and Catering, Multi-Property Management, Condo & Timeshare Owner Management with Web Functionality, Spa and Activities, Web Booking Engine, Real-Time Yield Management, Dynamic Packaging Golf, CRM, Guest Experience Measurement, CRO, GDS Two-Way XML Connectivity or Integration, Membership, Work Orders, Fine Dining and Retail POS, Online Table Reservations with Web Booking, Concierge and Guest Experience Measurement. The Maestro PMS is database independent (ODBC Compliant) and may be deployed via Windows, UNIX, Linux, Terminal Services, hosted and Web platforms.
About NORTHWIND - Maestro PMS
NORTHWIND is recognized in the hospitality industry for its "standard setting" Diamond Plus Service and robust integrated Maestro resort hotel software technology. With over 30 years experience dedicated to developing technology solutions for the hospitality industry, NORTHWIND is a partner who understands you need a scalable, flexible PMS that works the way you do. Maestro applications are engineered for operators who need to manage their enterprise in a real-time environment for the utmost operational efficiency, productivity, control and profitability.
About Penn Center Systems
Penn Center Systems - is an elite partner of NCR and IJWS offering sales, help desk, implementation services, software and hardware support for hotel check in solutions. Their portfolio of products includes self check in kiosks and wireless tablet/hand held check in products specifically designed for the hospitality industry. For more than 30 years PCS has been helping the hospitality industry exceed guest expectations by providing quality solutions that solve business problems.
Contact:
NORTHWIND - Maestro PMS
Ivana Johnston - Sales & Marketing
8300 Woodbine Avenue, 5th floor
Markham, ON L3R 9Y7
Canada
Phone: 905-940-1923
Toll Free: 1-888-667-8488
Email: info[at]maestropms[dot]com
http://www.maestropms.com/?Campaign=PRWebKioskMay102010
Penn Center Systems, Inc.
David Dunn, Director of Sales and Marketing
6 State Road, Suite 101
Mechanicsburg, PA 17050
Phone: 800-734-0459
Email: DavidD(at)PennCenterSystems.com
http://www.penncentersystems.com/hotel-pos.php
Media Contact:
Julie Keyser-Squires, APR
Softscribe Inc.
180 River Springs Drive NW
Atlanta, GA 30328
Twitter: @Juliesquires
Phone: (404)256-5512
Email: Julie(at)softscribeinc(dot)com
softscribeinc(dot)com
###