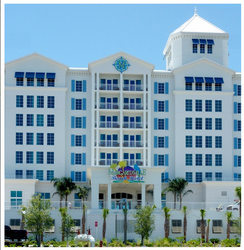 We selected Maestro's property management solution to book group rooms and individual reservations, and its Sales and Catering solution will help our property operate with greater efficiency
Markham, ON (PRWEB) July 16, 2010
NORTHWIND, provider of Maestro™ Enterprise Property Management hotel software and reservation software solutions for the industry's leading independent hotel, resorts, and multi-property groups, announced 10 independent resorts and hotel companies with a total of 16 properties selected the Maestro Property Management System to increase revenue, boost staff productivity and guest service, and streamline operations. The 16 new Maestro users were added in 2nd Quarter of 2010.
Companies selecting Maestro include the new Margaritaville Beach Hotel in Pensacola, Florida, MCM Hotels with seven properties in Texas and New Mexico, the Hotel Granduca operated by Benchmark Hospitality International, Andover Inn near Boston, Unity Village Hotel and Conference Center, the luxury boutique Goodstone Inn & Estate in Virginia, The Bernards Inn, Duke University R. David Thomas Center, the 185-room City Hotel & Bistro in Greenville, NC, and the rustic Sportsman's Inn Resort and Marina in Ontario, Canada.
Maestro's reputation made the decision easy
"MCM Hotels selected Maestro Multi-Property Management for its seven properties with 1,500 rooms because it was the most comprehensive system we evaluated to tie our hotels together on one database for cross selling and centralized CRM," said Venita Yelley, hotel division controller for MCM Hotels. "We evaluated many systems, but when we visited NORTHWIND's users and heard how good their system and service is our decision was easy. They do more than just support Maestro; they go above and beyond system maintenance. They provide expert personalized online guidance and operational recommendations that will increase productivity at our properties."
MCM will install Maestro Multi-Property Front Office, Sales & Catering, Spa & Activity Management, and Gift Card modules on a centrally-hosted server in MCM's corporate office. By combining guest records from all MCM's properties into a single database, the system will support more personalized guest service, accurate consolidated reporting, and increased revenue from more effective marketing and cross selling. MCM anticipates its rollout will be completed in November 2010.
Conference center and hotel on single database increases productivity
Unity Village Hotel and Conference Center in Kansas City chose the Maestro Front Office and fully-integrated Sales & Catering systems to automate its extensive 1,400-acre hotel and conference facility. "We selected Maestro's property management solution to book group rooms and individual reservations, and its Sales and Catering solution will help our property operate with greater efficiency," said Susan L. Mattucks, manager of network and telecom operations at Unity Village. "Maestro's single-image database will enable us to better sell and schedule the large number of civic organization meetings, private gatherings, weddings, and other events at our conference center."
Maestro revenue generating tools and Diamond Plus Service level the playing field for independent operators
With over 20 integrated modules, the Maestro Property Management Suite with ResWave Booking Engine is the preferred system for leading independent operators. Maestro levels the playing field for independent hoteliers who do not have corporate office support by keeping costs down and staff optimally productive which is vital for independents. NORTHWIND's focus is to enable its clients be successful by providing Diamond Plus Service which includes the industry's most responsive 24/7 help-desk support, online education, ebusiness marketing services, lifetime version upgrades, productivity audits, PCI assistance and more.
For a free demo of Maestro PMS, please call 1-888-667-8488 or email info(at)maestropms(dot)com.
Exchange ideas and connect with NORTHWIND on:
Maestro Property Management Solution
Enhance guest service, improve efficiency, and maximize online and offline revenue with Maestro PMS, the industry's most robust and flexible resort software and boutique hotel software solution empowering leading full-service hotels, luxury resorts, multi-property groups, conference centers, condominiums, and timeshare properties. Solutions include Front Office (PMS), Accounts Receivable, Analytics and Business Intelligence, Sales and Catering, Multi-Property Management, Condo & Timeshare Owner Management with Web Functionality, Spa and Activities, Web Booking Engine, Real-Time Yield Management, Dynamic Packaging Golf, CRM, Guest Experience Measurement, CRO, GDS Two-Way XML Connectivity or Integration, Membership, Work Orders, Fine Dining and Retail POS, Online Table Reservations with Web Booking, Concierge, and Guest Experience Measurement. The Maestro PMS is database independent (ODBC Compliant) and may be deployed via Windows, UNIX, Linux, Terminal Services, hosted, and Web platforms.
About NORTHWIND - Maestro PMS
NORTHWIND is recognized in the hospitality industry for its standard-setting Diamond Plus Service and robust integrated Maestro resort hotel software technology. With over 30 years' experience dedicated to developing technology solutions for the hospitality industry, NORTHWIND is a partner who understands you need a scalable, flexible PMS that works the way you do. Maestro applications are engineered for operators who need to manage their enterprise in a real-time environment for the utmost operational efficiency, productivity, control, and profitability.
# # #