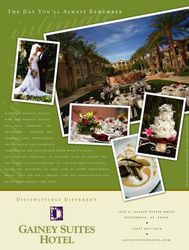 We work with Maestro to build landing pages for events that pull visitors from around the world. When guests research these events online, they can book rooms instantly with ResWave.
(PRWEB) November 4, 2010
The Gainey Suites Hotel is a high-end Scottsdale destination that successfully competes head-to-head with some of the most well known resorts in the West. The property developed a large following of loyal guests thanks to its culture of personalized guest service and friendly staff, its recent $3.7M renovation, and its highly effective online social medial marketing strategies. Another advantage is its #1 TripAdvisor rating.
Social medial generates hundreds of room nights
"Gainey Suites is unique in its market; we are an upscale, intimate alternative to Scottsdale's big box resorts – and we have moved ahead with the help of social medial channels that tell our story," said Rich Newman, general manager of Gainey Suites Hotel. "We rely on NORTHWIND- Maestro PMS for many areas of our online marketing strategy. They make it easy for us to create and implement effective online campaigns."
Gainey Suites uses Maestro's ResWave booking engine on its website and social media pages like Facebook, YouTube and Twitter. The property's YouTube videos have links to its ResWave reservation module that drive business from guests who watch rich-media hotel presentations and book rooms immediately. Newman said, "Our social media strategy generates hundreds of room-nights and adds to our F&B business."
Maestro creates specialized event landing pages that increase occupancy and upsell
Another element of Gainey Suites' success is its targeted email campaigns and landing pages for high-profile local events. "We work with Maestro to build landing pages for events that pull visitors from around the world like the Barrett-Jackson Collector's Car Auction and the Scottsdale Arabian Horse Show. When guests research these events online, they can book rooms instantly with ResWave."
We worked with the Maestro PMS resort software team to create neat packages like Spa Specials and Football Weekends with their own webpages and send the eblast with a book-it button to those guests who would be most interested.
Independent operators thrive with Social Media, creativity and 360 guest view
"Being an independent can be challenging in a market like Scottsdale, but Maestro has been very responsive and turns our ideas around quickly so we can make our event pages fresh for each venue." Newman said. "Chains have corporate social media programs, but are constrained by policy guidelines. Independents like Gainey Suites can respond to market changes and promote their hotels with a creative style that builds an image of a unique, personalized, destination people respond to by making reservations," Newman said.
Independent hoteliers need an experienced partner to listen, recognize their challenges, and provide reliable software as well as professional services that adapt to their unique business needs. Maestro goes above and beyond PMS by delivering specialized tools and expert services that enable independent operators to maximize revenue and keep guests coming back.
"Gainey Suites is like a family operation," said Newman. "Our team puts their heart and passion into making this a second home to our guests. This differentiates us from the larger Scottsdale resorts. We keep our edge by looking at the property through our guests' eyes and try to do a better job every day to always give guests a fresh experience."
At IHM&RS in New York November 13–16 visit NORTHWIND-Maestro at booth # 2453
At the BC Hospitality Exposition November 22–23 at the Vancouver Convention Centre, visit the NORTHWIND-Maestro team at Booth #424 for a personal demonstration.
For a demo of the Maestro Property Management Suite featuring the ResWave Booking Engine, please contact NORTHWIND at 1.888.667.8488 or email info(at)maestropms.com.
Exchange ideas and connect with NORTHWIND on:
Twitter, Facebook, and LinkedIn
About Gainey Suites Hotel
Gainey Suites Hotel, located in the exclusive Gainey Ranch, offers an intimate upscale experience featuring 162 spacious studio and one- and two-bedroom suites, the Hearth Room with fireplace and patio offering complimentary breakfast and an evening gourmet hors d'oeuvres with beer and wine reception, a lush palm tree-lined courtyard and desert gardens with pool and whirlpool spa, and state-of-the-art fitness center. For further information visit http://www.gaineysuiteshotel.com.
Maestro Property Management Solution
Enhance guest service, improve efficiency and maximize online and offline revenue with Maestro PMS, the industry's most robust and flexible resort software and boutique hotel software solution empowering leading full-service hotels, luxury resorts, multi-property groups, conference centers, condominiums and timeshare properties. Solutions include Front Office (PMS), Accounts Receivable, Analytics and Business Intelligence, Sales and Catering, Multi-Property Management, Condo & Timeshare Owner Management with Web Functionality, Spa and Activities, Web Booking Engine, Real-Time Yield Management, Dynamic Packaging Golf, CRM, Guest Experience Measurement, CRO, GDS Two-Way XML Connectivity or Integration, Membership, Work Orders, Fine Dining and Retail POS, Online Table Reservations with Web Booking, Concierge and Guest Experience Measurement. The Maestro PMS is database independent (ODBC Compliant) and may be deployed via Windows, UNIX, Linux, Terminal Services, hosted and Web platforms.
About NORTHWIND – Maestro PMS
NORTHWIND is recognized in the hospitality industry for its "standard setting" Diamond Plus Service and robust integrated Maestro resort hotel software technology. With over 30 years experience dedicated to developing technology solutions for the hospitality industry, NORTHWIND is a partner who understands you need a scalable, flexible PMS that works the way you do. Maestro applications are engineered for operators who need to manage their enterprise in a real-time environment for the utmost operational efficiency, productivity, control and profitability.
###