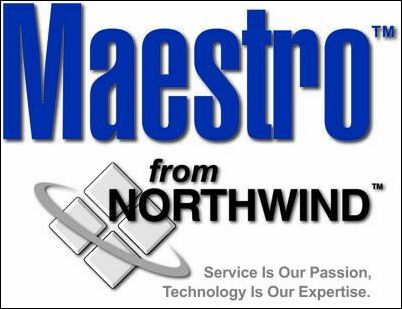 The addition of the Jencess' Golf Management, POS and Club Membership Management systems to the Maestro Enterprise Suite will make NORTHWIND's complete hospitality solution even stronger
Markham, ON (PRWEB) November 15, 2006
NORTHWIND, provider of the recognized (PRWEB) November 17, 2006 -- Maestro Enterprise Property Management Suite of hotel software and reservation solutions for hospitality, announced it is partnering with industry leader Jencess Software and Technologies, Inc. to deliver leading edge Golf and Membership Management and POS modules to enhance the Maestro Enterprise Suite for maximum efficiency without interfaces. Maestro now provides 15 modules for full property automation making the widely-installed Maestro Enterprise the strongest multi-module solution for hotels, resorts, and condo-timeshare companies.
NORTHWIND's President of US Operations, Warren Dehan said, "Our goal is to provide independent and chain operators with solutions and services that maximize their efficiency and profitability. NORTHWIND's agreement with an industry powerhouse like Jencess means NORTHWIND clients will benefit from leading-edge Golf Management, Fine Dining POS, Retail POS, and Membership solutions to automate every area of hotel and resort operations on a single-image database." The Jencess Golf Management, POS and Club Management applications are installed at over 500 of the most prestigious and demanding resorts and clubs in North America.
"The addition of the Jencess' Golf Management, POS and Club Membership Management systems to the Maestro Enterprise Suite will make NORTHWIND's complete hospitality solution even stronger," The Jencess systems will utilize Maestro's proven single-image guest record database said Kirk Jensen, president of Jencess Software and Technologies, Inc. "We have worked with NORTHWIND for several years and respect their integrity and systems expertise." Jencess is a respected provider of golf, resort and club technology to over 500 leading hospitality and gaming companies worldwide.
Maestro Enterprise Suite
The Maestro Property Management Suite combines the full-function Maestro Front Office System - used by hotels from 3,500 to 25 rooms - with a family of specialized modules that includes:
Maestro GDS+ - An online, real-time reservation engine with integrated Yield Management to maximize ADR for virtually all eReservation channels;
Maestro Owner Management - Fully integrated ownership accounting functionality for timeshare and condo reservations and asset performance reporting;
Maestro Fine Dining Point of Sale - Is a flexible POS for single-terminal outlets or extensive multi-property network operations. The system is linked to each guests' record so all F&B package reconciliation is calculated automatically and reporting is accurate;
Maestro Sales & Catering - Manages group-convention sales and function rooms, whether at one property or for a portfolio of hotels;
Golf Management - Is a world-class tee-time scheduling and tournament system powered by Jencess for professional and private courses and clubs
ResEze Web Booking Engine - Enables independent and multi-property hotels to take advantage of the growing online revenue opportunity by providing tools for guests to book their own reservations from an operator's website;
Maestro Yield - A revenue manager that makes sophisticated revenue optimization strategies easy to implement and track for multiple booking channels, including Internet reservations, at one or more properties;
Maestro Analytics - A complete business intelligence software suite that enables end-users to interactively analyze critical business information in real time for better informed decision making;
Club Membership Management - For property-based clubs, Maestro Club Management powered by Jencess, automates membership, accounting and events from the Maestro server;
Maestro CRM - A robust technology solution that gives managers the information to provide better guest service, build more profitable marketing campaigns and to make the best decisions for booking new business;
Work Order Maintenance - Enables businesses to track asset use and schedule service and replacement;
Maestro Spa & Activities Management - Enables resorts, hotels and clubs to schedule facilities and activities with real-time integration to all other modules;
Retail Point of Sale - A fully integrated module powered by Jencess that automates property outlets, like pro shops or other stores that maintain extensive inventories, to track and post guest purchases and monitor stock levels;
Maestro CRS - Supports a two-way interface to corporate sales offices;
Maestro Multi-Property - Used by many multi-property operating companies and corporate reservation facilities to automate a large number of properties on a single server with a single database; or it can allow each property to operate on its own server with all files being replicated at the central corporate offices.
About NORTHWIND
NORTHWIND, known in the hospitality industry for its service and state-of-the-art Maestro technology, is widely respected for providing hotels, private organizations, and corporate management companies with flexible software solutions that increase productivity. NORTHWIND helps hotels understand their guests better via a single-image database.
Based in Markham, Ontario, Canada, with a network of dealers and offices worldwide, NORTHWIND is a leading supplier of software for all types of hospitality operations including hotels, resorts, timeshares, condominiums, seminaries, state parks, and clubs. Maestro applications are engineered for operators who need to manage their enterprise in a real time environment for the utmost operational control and profitability. Designed to maximize the
efficiency of any size single hotel or multi-property enterprise, NORTHWIND's Maestro solution offers the most productive working environment, which includes the following suite of products: PMS, Sales & Catering, Spa & Activities Management, CRM, Corporate Reservations Office, Multi-Property Management, Condo/Owner Management, Yield Management, F&B POS & Online Table Res, Retail POS, Golf Management, GDS Connectivity and ResEze Internet Reservations. This comprehensive multi-platform (Windows 2000/XP, Unix/Linux, Terminal Server & Web Enabled) suite is recognized as the solution of choice for progressive and demanding organizations. NORTHWIND is a total solution provider that offers leading-edge technologies, and unparalleled training and support.
About Jencess Software & Technologies, Inc.
Jencess Software & Technologies, Inc. is in its twenty-third year of delivering state-of-the-art technology solutions for Golf Course Management with product installations worldwide. The Connect and Online Suites are the most complete integrated solutions for single or multiple Golf Course Management offering POS, Tee Sheet, Food & Beverage, Financial, Tournament, Handicapping and the extensive suite of Online management and member services. Jencess has offices in Edmonton, Boston, Augusta, London, and Paris. For more information on Jencess Software visit http://www.jencess.com. .
Contact:
Audrey MacRae - Director, Sales & Marketing
NORTHWIND
60 Renfrew Drive, Suite #235
Markham, ON L3R 0E1
Phone: (905) 940-1923 ext - 246
1-888-NORTH88 (667-8488)
Fax: (905) 940-1925
http://www.maestropms.com/?campaign=PRWebJencessNov162006
Jencess Software & Technologies, Inc.
4509 - 101 Street
Edmonton, AB. T6E 5C6
Phone: (780) 434-4444
1-800-267-4447
Media Contact
Julie Squires
Softscribe Inc.
Phone: 404-256-5512
###