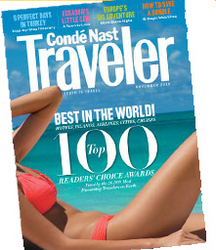 Our Maestro system enables us to recognize guests instantly when they contact us and proactively offer them the amenity or services they enjoyed with us previously. Every department head uses Maestro to become more familiar with each guest's requirements
Markham, ON (PRWEB) November 18, 2010
NORTHWIND, provider of Maestro™ Enterprise Property Management hotel software and reservation software solutions for the industry's leading independent hotel, resorts, and multi-property groups, announced that a growing list of independent luxury clients recently earned top honors from Conde' Nast, Forbes Travel Guide, and the American Automobile Association for their outstanding properties and service.
Conde' Nast "Top 100" properties focus on each guest's experience
The 2010 Conde' Nast 'Top 100' list of exceptional hotels is filled with properties that rely on the Maestro Suite of property systems to maximize revenue, drive more online bookings, and create a more productive operating environment that enables staff to focus on each guest's experience. Conde' Nast "Top 100" Maestro users include the Kenwood Inn & Spa in Sonoma California, the Stephanie Inn in Cannon Beach, Oregon, The Wauwinet operated by Nantucket Island Resorts on Nantucket Island, and Queen's Landing operated by Vintage Hotels near Niagara Falls, Canada.
Five-Star and Five-Diamond properties recognize guests, proactively offer best rates and services
The Stein Eriksen Lodge in Utah is a Forbes Travel Guide Five-Star, AAA Five-Diamond luxury resort that earns its reputation daily thanks to the efficient service of its professional staff. "We pride ourselves on providing personalized service to our guests," said Jan Raio, director of sales and marketing at Stein Eriksen Lodge. "Our Maestro system enables us to recognize guests instantly when they contact us and proactively offer them the amenity or services they enjoyed with us previously. Every department head uses Maestro to become more familiar with each guest's requirements." NORTHWIND-Maestro clients, Post Ranch Inn and The Wauwinet, operated by Nantucket Island Resorts on Nantucket Island, earned a Four-Star rating from Forbes Travel Guide.
The Saint Paul Hotel has hosted presidents, royalty, business moguls and movie stars. "We use Maestro to get a clear picture of each guest's past stay information so we can personalize their time with us when they return," said David Miller, general manager of the AAA Four-Diamond Saint Paul Hotel. "All guest history data is stored in the system and easily accessible for instant access so we can provide the utmost in high-touch service. It shows our guests that we know their preferences and value them. Maestro's Yield Management system is also important for our guests because we can use it to offer them the best rates. Guests can shop for excellent deals at our luxury hotel on holidays and periods when we are not busy."
Other Four-Diamond Maestro users include the Chaminade Resort & Spa operated by Benchmark Hospitality International, The Oban Inn and OSpa, and Minto Suite Hotel, which is Ottawa's only Four-Diamond all-suite hotel.
Luxury resorts use centralized database and integration for greater staff efficiency
"Fairmont Hot Springs Resort is a Four-Diamond Resort with a four-season family of loyal guests that come back each year," said Lucy Hallford, vice president finance at Fairmont Hot Springs. "Maestro's integrated Front Office, Spa, Condo Ownership, Sales & Catering, and ResEze web booking engine enable our staff to create a friendly atmosphere. Our suite of Maestro system modules works together seamlessly and frees our team to focus their attention on guests, not administration."
"Service is the common element at all our properties," said Mary Ellen Dougan, Director of Sales and Marketing for Rodd Hotels and Resorts. "Guests who stay at our Yarmouth business hotel receive the same service as at Rodd's Five-Star Crowbush Golf Resort. We maintain a centralized guest database within our Maestro system that enables Rodd's front office staff to track each of our frequent-stay Equity Club members to ensure they are always recognized and honored at all our hotels. Maestro is an essential part of our award-winning service."
For a demo of the Maestro Property Management Suite featuring the ResWave Booking Engine, please contact NORTHWIND at 1.888.667.8488 or email info@maestropms.com.
At the BC Hospitality Exposition November 22 - 23 at the Vancouver Convention Centre, visit the NORTHWIND-Maestro team at Booth #424 for a personal demonstration.
Exchange ideas and connect with NORTHWIND on:
Twitter, Facebook, and LinkedIn
Maestro Property Management Solution
Enhance guest service, improve efficiency, and maximize online and offline revenue with Maestro PMS, the industry's most robust and flexible resort software and boutique hotel software solution empowering leading full-service hotels, luxury resorts, multi-property groups, conference centers, condominiums, and timeshare properties. Solutions include Front Office (PMS), Accounts Receivable, Analytics and Business Intelligence, Sales and Catering, Multi-Property Management, Condo & Timeshare Owner Management with Web Functionality, Spa and Activities, Web Booking Engine, Real-Time Yield Management, Dynamic Packaging Golf, CRM, Guest Experience Measurement, CRO, GDS Two-Way XML Connectivity or Integration, Membership, Work Orders, Fine Dining and Retail POS, Online Table Reservations with Web Booking, Concierge, and Guest Experience Measurement. The Maestro PMS is database independent (ODBC Compliant) and may be deployed via Windows, UNIX, Linux, Terminal Services, hosted, and Web platforms.
About NORTHWIND - Maestro PMS
NORTHWIND is recognized in the hospitality industry for its standard-setting Diamond Plus Service and robust integrated Maestro resort hotel software technology. With over 30 years' experience dedicated to developing technology solutions for the hospitality industry, NORTHWIND is a partner who understands you need a scalable, flexible PMS that works the way you do. Maestro applications are engineered for operators who need to manage their enterprise in a real-time environment for the utmost operational efficiency, productivity, control, and profitability.
###