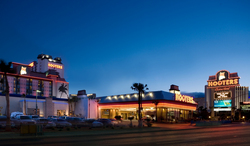 The internet is one of our strongest reservation channels and we work with Maestro's team to expand our online presence and optimize promotions with more effective strategies that increase revenue.
(PRWEB) March 16, 2011
Hooters Casino Hotel in Las Vegas with a reputation for fun is leveraging serious hotel software technology from Maestro to increase revenue and reduce reservation cost. The 696-room hotel is using online specials and promotion codes linked to its Maestro Property Management System and ResWave online booking software to increase its share of Las Vegas-bound travelers. Seventy-five percent of responders to a recent promotion booked the property's special offer and many requested room upgrades.
We work with Maestro Web Connection Team to increase online revenue
"We installed Maestro Front Office and ResWave web booking when Hooters Casino Hotel opened," said John Shearer CRME, revenue manager for Hooters Casino Hotel. "The internet is one of our strongest reservation channels and we work with Maestro's team to expand our online presence and optimize promotions with more effective strategies that increase revenue. Our recent promotion-code project with Maestro combines targeted email blasts, new room types coupled to updated promotions, and integrated ResWave reservation software reservation software booking engine links. The email open rate for our most recent special offer was excellent, many responders booked the promotion."
Hooters Casino Hotel verified its current strategy's effectiveness by using ResWave to compare similar promotions for the same day a year ago. "Maestro's ResWave booking engine provides great promotion analytics to help us improve our success rate continuously," Shearer said.
Shearer explained how Hooters improved its response rates. "Our early promotions and codes did not yield the return we wanted. The Maestro team evaluated our positioning and helped build new promotion landing pages, updated our room types, and linked them to our promotions. We tested the new codes and room types in ResWave with a Valentine's Day promotion linked to an attractive Maestro landing page with photos of our rooms. The difference in response was like day and night, the promotion was very successful. We tracked the conversions with ResWave so we know the effectiveness of each special we broadcast."
Shearer described the numbers generated by their most recent online Valentine's Day special. "The promotion instantly generated 100 room-nights for our last-minute sale that converted through our ResWave booking engine.
Maestro Goes Beyond PMS to Deliver Revenue Generating Services
With the industry's leading Diamond Plus Service, Maestro goes beyond conventional PMS to deliver revenue-generating tools and services empowering operators to increase profitability, drive online bookings, centralize operations and provide high-touch service.
Hooters attributes increased revenue to the promotion landing pages the NORTHWIND-Maestro team created. "Our room upgrade bookings are growing because we now display room types with attractive photos on our promo landing pages. The Maestro system is very reliable. We run promotions all the time and ResWave's upgrade options make it easy for guests to request the upgrade and this boosts our revenue," Shearer said. Hooters uses its own guest database and also utilizes another company's to broaden its email promotions' reach to direct respondents to Hooters' ResWave booking page that has accurate real-time availability so guests always get the room they expect.
Going to HITEC 2011 in Austin? Visit Booth 323 to meet the Maestro team.
For a demo of the Maestro Property Management Suite featuring the ResWave Booking Engine, please contact NORTHWIND at 1.888.667.8488 or email info(at)maestropms.com.
Exchange ideas and connect with NORTHWIND on:
Twitter, Facebook, and LinkedIn
Maestro Property Management Solution
Enhance guest service, improve efficiency and maximize online and offline revenue with Maestro PMS, the industry's most robust and flexible resort software and boutique hotel software solution empowering leading full-service hotels, luxury resorts, multi-property groups, conference centers, condominiums and timeshare properties. Solutions include Front Office (PMS), Accounts Receivable, Analytics and Business Intelligence, Sales and Catering, Multi-Property Management, Condo & Timeshare Owner Management with Web Functionality, Spa and Activities, Web Booking Engine, Real-Time Yield Management, Dynamic Packaging Golf, CRM, Guest Experience Measurement, CRO, GDS Two-Way XML Connectivity or Integration, Membership, Work Orders, Fine Dining and Retail POS, Online Table Reservations with Web Booking, Concierge and Guest Experience Measurement. The Maestro PMS is database independent (ODBC Compliant) and may be deployed via Windows, UNIX, Linux, Terminal Services, hosted and Web platforms.
About NORTHWIND – Maestro PMS
NORTHWIND is recognized in the hospitality industry for its "standard setting" Diamond Plus Service and robust integrated Maestro resort hotel software technology. With over 30 years experience dedicated to developing technology solutions for the hospitality industry, NORTHWIND is a partner who understands you need a scalable, flexible PMS that works the way you do. Maestro applications are engineered for operators who need to manage their enterprise in a real-time environment for the utmost operational efficiency, productivity, control and profitability.
About Hooters Casino Hotel
Hooters Casino Hotel is conveniently located one block from the famous Las Vegas Strip and across from the MGM Grand. While guests can expect to see more than 200 world-famous Hooters Girls throughout the property, an exciting mix of drinking, entertainment and nightlife is also featured, from eight fine and funky restaurants and bars, to one of the hottest pool decks in town. The 30,000 square-foot Hooters-themed casino floor offers approximately 650 state-of-the-art slot and video-poker machines and 33 table games. Hooters Casino Hotel is owned by 155 East Tropicana, LLC. For more information, call (866) LVHoots or visit http://www.hooterscasinohotel.com.
###