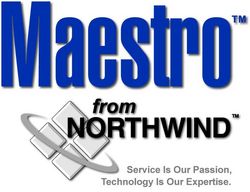 NORTHWIND-Maestro PMS is developing ResWave for operators who want a bigger piece of the estimated $68 billion in online travel revenue generated in 2007
Markham, ON (PRWEB) January 9, 2008
NORTHWIND-Maestro PMS, provider of Maestro Enterprise Property Management hotel software and reservation software solutions for hospitality, today announced ResWave, its newest online system to generate greater revenue for hotel operators by leveraging the huge increase in online travel revenue expected by Jupiter Research to top $128 billion by 2011.
ResWave is an advanced suite of Internet booking tools that is fully integrated with Maestro Enterprise Property Management to ensure data integrity for all online transactions. With its upcoming full implementation, the new system will deliver online dynamic package customization, guest dining and event reservations, and group management capabilities coupled with Maestro's real-time yield management to optimize property income from all revenue channels. Properties will experience greater productivity from ResWave because guests can for the first time reserve a wide variety of income producing add on package and non-package property activities including golf tee times, dining reservations, spa treatments and recreational equipment rentals online with their room booking.
ResWave delivers totally new online services
"NORTHWIND-Maestro PMS is developing ResWave for operators who want a bigger piece of the estimated $68 billion in online travel revenue generated in 2007," said Warren Dehan, president of NORTHWIND-Maestro PMS' North America operations. "ResWave delivers advanced online revenue generating capabilities from guests' ability to add profitable amenities and events to their reservations online before they arrive, with the added benefit of improving guest service. The system's new online group management functionality also gives group planners the ability to manage their own blocks, which frees property sales staff to focus on new business."
The ResWave suite supercharges operators Internet profitability by delivering online capabilities for:

Dynamic Package Management
Group Rooming List Management
Spa Appointment Booking
Activities Booking
ResWave compliments NORTHWIND-Maestro PMS' advanced Web Connection functionality that includes Online Table Reservations, ResEze Web booking and Condo-Timeshare Owner Account Access, all designed to deliver optimal guest services and improve efficiency.
"Successful properties understand that guests and meeting planners want to reserve activities and services before they arrive so there is no on-property guesswork and greater efficiency," Dehan added. "Giving guests the ability to do this while booking their hotel reservation online is important because it keeps revenue on-property and gives guests control over their activities."
Maestro Property Management Suite
The Maestro Suite is comprised of more than 20 integrated modules including Front Office (PMS), Accounts Receivable, Analytics and Business Intelligence Tools, Sales and Catering, Multi-Property Management, Condo Owner Management with Owner Web Functionality, Timeshare Owner Management with Owner Web Functionality, Spa and Activities Management, Club Membership Management, Yield Management, Golf Course Management, CRM, Central Reservation Office, Corporate Enterprise Management, GDS Two-Way XML Connectivity or Integration, ResEze Web Booking Engine, Work Order Maintenance, Fine Dining and Retail POS, Table Reservations with Web Booking, Concierge and Guest Experience Management.
About NORTHWIND - Maestro PMS
NORTHWIND, is recognized in the hospitality industry for its "standard setting" Diamond Support Services and state-of-the-art Maestro technology. The company is respected for being a partner that understands how to help you boost productivity and strengthen management control for your hotel, resort, conference center or multi-property group by providing flexible solutions that increase productivity and maximize ROI. With a network of dealers and offices worldwide, NORTHWIND is a leading supplier of software for all types of hospitality operations including hotels, resorts, timeshares, condominiums, retreats, state parks and clubs. Maestro applications are engineered for operators who need to manage their enterprise in a real time environment for the utmost operational control and profitability.
We know how important it is that you provide your guests a consistent level of service and repeat recognition, while maintaining a 360 degree guest view at every point of contact. NORTHWIND is empowering over 6500 users worldwide by delivering the industry's most complete property management solution suite with over 20 robust Maestro applications sharing one single-image database. The Maestro Property Management Suite may be deployed via Windows, UNIX, Linux, Terminal Services, ASP and Web platforms.
Contact:
NORTHWIND - Maestro PMS, North America
Audrey MacRae - Director, Sales & Marketing
P: 905.940.1923
1-888-667-8488
http://www.maestropms.com/HOL?campaign=PRWebReswaveJan92008
Maestro PMS Ltd., United Kingdom & Ireland
David Warren - Director of Services and Sales
P: +44 (0) 1293 883918
http://www.maestropms.co.uk?campaign=PRWebReswaveJan92008
Media Contact
Julie Keyser-Squires, APR
Softscribe Inc.
Phone: 404-256-5512
http://www.softscribeinc.com
###