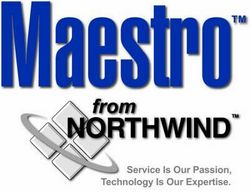 NORTHWIND's trainers understand that distinctive independent properties like ours need personalized service and they have done an excellent job of supporting our operation for nearly 20 years.
Markham, ON (PRWEB) February 5, 2008
NORTHWIND-Maestro PMS, provider of Maestro Enterprise Property Management hotel software -and reservation software for hospitality, is the top supplier of solutions to boutique hotels and independent resorts. 2008 marks the 30-year anniversary for NORTHWIND which continues to lead the industry in committing resources to system enhancements and ongoing development that leverages the latest technologies and keeps the company and its clients on the cutting edge.
Independent operators demand customized systems that enable them to offer guests superior service and unique activities. NORTHWIND's 20 fully-integrated Maestro modules meet the specialized requirements of independent properties with functionality not provided by generic "big box" systems. Maestro's comprehensive suite of solutions and services delivers:

Flexible, customizable systems that adapt to unique property operations
Personalized support for operators that do not have a corporate staff behind them
Extensive experience with independent properties and full service resorts
An awareness of what high-touch properties need to provide superior guest service
Maximized online revenue opportunities and increased operational efficiency with the newest Web Connection suite
Diamond Plus Service including 24/7 North American-based support and free online training webinars
NORTHWIND-Maestro has worked closely with thousands of independent operators to develop functionality that enables properties to provide unsurpassed guest-centric service while being easy to learn and use to increase efficiency and staff productivity. "Our property has used Maestro for more than 20 years and was one of the first full service resorts to install it," said Dianne Hounsome, general manager of Bayview Wildwood Resort in Ontario, Canada. "Our team worked with NORTHWIND to help develop Maestro's specialized functionality that addresses the needs of independent resorts like ours. Maestro is a company with integrity and its systems are perfect for boutique operators."
"Epworth by The Sea is a unique property and Maestro develops the customized reports we need to operate more efficiently," explained Ann Willis, director of reservations. "NORTHWIND's trainers understand that distinctive independent properties like ours need personalized service and they have done an excellent job of supporting our operation for nearly 20 years."
Chris Shroff, owner of Seaside Properties, a multi-property ownership resort complex in Myrtle Beach, SC has managed his property group with Maestro for more than 15 years. "I continue to work closely with Maestro's development team on system upgrade projects to advise them on the type of modules that boutique operators need to provide the widest range of guest services and more efficient automation. Addressing the needs of our unique hospitality segment is something NORTHWIND does very well."
"A company that has been in business for 30 years can be successful only if it consistently provides the outstanding service and innovative solutions its clients need to prosper," said Warren Dehan, president of North American operations for NORTHWIND-Maestro PMS. "We have a solid background of experience and are continuing to expand our understanding of how to do a good job for operators. NORTHWIND has the skill, technical depth, track record and customer focus to support our clients' success and enable them to generate more revenue, operate more productively and provide better guest service. This is why we are in business."
Maestro Property Management Suite
The Maestro Suite is comprised of more than 20 integrated modules on a single-image database for centralized, real-time full property automation, providing a 360 degree guest view at every point of contact. Solutions include Front Office (PMS), Accounts Receivable, Analytics and Business Intelligence Tools, Sales and Catering, Multi-Property Management, Condo Owner Management with Web Functionality, Timeshare Owner Management with Web Functionality, Spa and Activities, Club Membership, Yield Management, Golf Course, CRM, Central Reservation Office, Corporate Enterprise Management, GDS Two-Way XML Connectivity or Integration, ResEze Web Booking Engine, Work Orders, Fine Dining and Retail POS, Table Reservations with Web Booking, Concierge and Guest Experience Measurement. The Maestro PMS is database independent (ODBC Compliant) and may be deployed via Windows, UNIX, Linux, Terminal Services, hosted and Web platforms.
About NORTHWIND - Maestro PMS
NORTHWIND is recognized in the hospitality industry for its "standard setting" Diamond Plus Services and state-of-the-art Maestro technology. The company is respected for being a long term partner that understands how to help you boost productivity and strengthen management control for your hotel, resort, conference center or multi-property group by providing flexible solutions that increase productivity and maximize ROI. With a network of dealers and offices worldwide, NORTHWIND is a leading supplier of software for all types of hospitality operations including hotels, resorts, timeshares, condominiums, retreats, state parks and clubs. Maestro applications are engineered for operators who need to manage their enterprise in a real-time environment for the utmost operational control and profitability. NORTHWIND is empowering over 8000 users worldwide by delivering the industry's most scaleable, flexible and advanced property management solution suite with over 20 robust Maestro modules.
Contact:
NORTHWIND - Maestro PMS, North America
Audrey MacRae - Director, Sales & Marketing
P: 905.940.1923
1-888-667-8488
info @ maestropms.com
http://www.maestropms.com/HOL?campaign=PRWeb30yearsFeb52008
Maestro PMS Ltd., United Kingdom & Ireland
David Warren - Director of Services and Sales
P: +44 (0) 1293 883918
ukinfo @ maestropms.com
http://www.maestropms.co.uk
Media Contact
Julie Squires
Softscribe Inc.
Phone: 404-256-5512
Email: Julie @ softscribeinc.com
http://www.softscribeinc.com
###