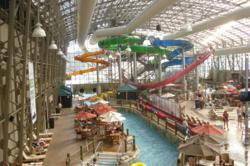 We created very effective Splash and Stay packages in our NORTHWIND Maestro™ PMS and market them through our website's ResWave online booking software.
(PRWEB) May 30, 2012
At HITEC Visit NORTHWIND-Maestro PMS in Booth # 1010
June 25 to 28, Baltimore Convention Center
Seasonal demand is a fact of life for hotel operators. For properties in seasonal resort markets like ski areas or golf get-a-ways, driving business throughout the year is the secret of success. Here is how three leading independent operators expand their shoulder season business, attract new market segments and keep guests returning.
Multi-property Ski Resort increases business over 48% with new indoor water park and conference center
Jay Peak Resort is a popular Vermont outdoor activity destination long valued by guests who like deep snow and high mountains. Now, the Resort is expanding its image with the recent opening of its new 8,000 sq. ft. conference facility and "Pump House," the largest indoor water park in Eastern North America. The Resort also opened the 176-room Hotel Jay to support its growing seasonal appeal.
"We expanded our seasonal marketing tactics with our facilities when we opened our 50,000 sq. ft. Pump House water park, Hotel Jay, and its attached conference center," said JJ Toland, director of communications and partnerships at Jay Peak Resort. "The new water park and conference center strengthen our shoulder seasons, boost our prime winter market, and weather-proof all of our activities. We created very effective Splash and Stay packages in our NORTHWIND Maestro™ PMS and market them through our website's ResWave online booking software." Toland noted Jay Peak Resort's business is up 48% as a direct result of its water park and conference center. "This winter we also built a 'Ski, Splash and Stay' package in Maestro reservation software and sell it online. It was our most successful package. Bundling the Pump House with skiing has far exceeded our expectations. Maestro helped our marketing tremendously." Jay Peak optimizes its expanding multi-property operations using Maestro's integrated PMS on a single image database.
Fairmont uses creative online packages to increase shoulder season occupancy and ADR
Fairmont Hot Springs Resort in British Columbia is a Four-Diamond destination with a four-season strategy. "Our low season is October through December when there is a gap between the end of golf weather and the beginning of our ski season," said Lucy Hallford vice president of finance at Fairmont. "To increase low season business low we market to senior and affinity groups who are freer to travel. We developed packages in our Maestro hotel software specifically for these groups that combine spa, pool soaking, and fitness activities that both segments value."
Fairmont builds and promotes its seasonal packages with a new website that leverages its NORTHWIND Maestro™ Property Management System (PMS) and ResWave online booking engine. "Our new website lets us market seasonal promotions more effectively so guests book our new packages in real-time from our site ResWave booking engine," said Hallford. "Our ADR is increasing as we combine activities that make our resort more attractive to retirees. Creating packages with meals and amenities is effective in building shoulder season occupancy and revenue."
5 Star Taboo Resort adds Spa and online up-sell for profitable 4-season business
Taboo Resort, Golf and Spa is a coveted destination for professionals and others who value beauty and recreation. Taboo is an ultra-chic property with a 5-Star restaurant, a full-service Spa that opens July 2012, and championship golf course. To make it easier for guests to book rooms, spa appointments, and other services online all year, Taboo upgraded its website, with surprising results.
"To leverage our resort year round we strengthened our online branding and web sales efforts," said Christina McLaren, marketing coordinator. "We also implemented Maestro's fully-integrated ResWave booking engine on our website to sell dynamic packages that guests personalize with added amenities. We use the Maestro Property Management Suite and ResWave online booking system so guests may reserve other revenue-generating activities while they book their room online. Taboo is seeing a substantial increase in online revenue with the addition of website guest self up-sell."
For a demo of the Maestro Property Management Suite featuring the ResWave Booking Engine, please contact NORTHWIND at 1.888.667.8488 or email info(at)maestropms.com.
Exchange ideas and connect with NORTHWIND on:
Twitter, Facebook, and LinkedIn
Maestro Property Management Solution
Enhance guest service, improve efficiency, and maximize online and offline revenue with Maestro PMS, the industry's most robust and flexible resort software and boutique hotel software solution empowering leading full-service hotels, luxury resorts, multi-property groups, conference centers, condominiums, and timeshare properties. Solutions include Front Office (PMS), Accounts Receivable, Analytics and Business Intelligence, Sales and Catering, Multi-Property Management, Condo & Timeshare Owner Management with Web Functionality, Spa and Activities, Web Booking Engine, Real-Time Yield Management, Dynamic Packaging Golf, CRM, Guest Experience Measurement, CRO, GDS Two-Way XML Connectivity or Integration, Membership, Work Orders, Fine Dining and Retail POS, Online Table Reservations with Web Booking, Concierge, and Guest Experience Measurement. The Maestro PMS is database independent (ODBC Compliant) and may be deployed via Windows, UNIX, Linux, Terminal Services, hosted, and Web platforms.
About NORTHWIND – Maestro PMS
NORTHWIND is recognized in the hospitality industry for its standard-setting Diamond Plus Service and robust integrated Maestro resort hotel software technology. With over 30 years' experience dedicated to developing technology solutions for the hospitality industry, NORTHWIND is a partner who understands you need a scalable, flexible PMS that works the way you do. Maestro applications are engineered for operators who need to manage their enterprise in a real-time environment for the utmost operational efficiency, productivity, control, and profitability.