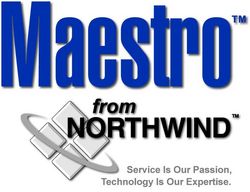 NORTHWIND-Maestro PMS is continuing to enhance ResWave to maximize operators' online revenue while providing guests with personalized services
Markham, ON (PRWEB) June 5, 2008
NORTHWIND-Maestro PMS, provider of Maestro Enterprise Property Management hotel software and reservation software solutions for the hospitality industry, announced new online revenue enhancements for its ResWave Web booking product suite. Maestro ResWave now includes online Dining Table Reservation Management, dynamic Guest Experience Customization and multi-property package booking and fulfillment to increase online travel revenue expected by Jupiter Research to top $128 billion by 2011.
Forrester Research forecasts that 34.4 million households in the US are booking online as people prefer point-and-click for travel reservations. Corporate meeting planners are following suit with more group business than ever now being booked online. ResWave is NORTHWIND's comprehensive industry-leading Internet booking engine that enables operators to drive greater online revenue with Web services that leisure guests and corporate bookers are demanding.
New ResWave revenue tools
The newest ResWave revenue generating features include Dining Table Reservation Management which lets operators optimize their dining outlet's usage to maximize the number of covers and revenue with automated cover yield optimization. When guests book their dining reservations online with their room, the system analyzes table space availability and party size and recommends the best time to make a reservation to yield-manage covers and outlet revenue.
ResWave also now enables guests to personalize their stay with Guest Experience Customization functionality. ResWave enables guests to verify availability of spa space, dining reservations, tennis lessons and other activities to confirm their availability before they book a room. Other booking engines force guests to reserve a room before they verify if services are available, but ResWave's 'shopping cart' format allows guests to immediately verify the services they enjoy are available to personalize their stay experience and add to the property's bottom line.
ResWave goes multi-property. ResWave is fully integrated with all 20+ modules in Maestro Enterprise Property Management, which allows accurate real-time availability of rooms, spa attendants and treatment space, athletic coaches and dining space across multiple properties. Guests can make reservations from one property's booking engine and enjoy activities across all participating properties with all fees posted to a single folio for greater convenience.
The full Suite of additional ResWave online service capabilities also includes:

Dynamic Package Management
Group Rooming List Management
360 degree Guest Preference Tracking
SMS PDA Communications to Reach Traveling Guests
ResWave delivers advanced Web services
"NORTHWIND-Maestro PMS is continuing to enhance ResWave to maximize operators' online revenue while providing guests with personalized services," said Warren Dehan, president of NORTHWIND-Maestro PMS' North America operations. "ResWave delivers advanced online capabilities beginning with guests' ability to add profitable amenities and events to their reservations before they arrive. The added benefit for operators is their ability to have a 360-degree view of guests by tracking each preference decision in Maestro to create more effective marketing campaigns and develop personalized guest service initiatives."
Revenue manage all guest booking options
All ResWave functionality, including online dynamic package customization, guest dining and event reservations, and group management capabilities are integrated with Maestro's real-time yield management to optimize property income from all revenue channels. Properties experience greater productivity from ResWave because guests can for the first time reserve a wide variety of income producing add-on package and non-package property activities with their room booking without contacting property staff. ResWave compliments NORTHWIND's advanced Web Connection functionality that includes Online Table Reservations, ResEze Web booking engine and Condo-Timeshare Owner Account Access, all designed to deliver optimal guest services and improve efficiency.
At HITEC Visit NORTHWIND- Maestro at Booth #1231
To learn how to leverage the Maestro PMS to increase online revenue, read the NORTHWIND-Maestro Web Connection White Paper
Conference attendees are invited to participate in a "Web Connection" Exhibitor Tutorial presented by Warren Dehan on Wednesday, June 18, from 1:30 - 2 p.m. in Tutorial Room A at the HITEC exhibit hall.
Maestro Property Management Suite
The Maestro Suite is comprised of more than 20 integrated modules on a single-image database for centralized, real-time full property automation, providing a 360-degree guest view at every point of contact. Solutions include Front Office (PMS), Accounts Receivable, Analytics and Business Intelligence Tools, Sales and Catering, Multi-Property Management, Condo Owner Management with Web Functionality, Timeshare Owner Management with Web Functionality, Spa and Activities, Club Membership, Yield Management, Golf Course, CRM, Central Reservation Office, Corporate Enterprise Management, GDS Two-Way XML Connectivity or Integration, ResEze Web Booking Engine, Work Orders, Fine Dining and Retail POS, Table Reservations with Web Booking, Concierge and Guest Experience Measurement. The Maestro PMS is database independent (ODBC Compliant) and may be deployed via Windows, UNIX, Linux, Terminal Services, hosted and Web platforms.
About NORTHWIND - Maestro PMS:
NORTHWIND is recognized in the hospitality industry for its "standard setting" Diamond Plus Services and state-of-the-art Maestro technology. The company is respected for being a long term partner that understands how to help you boost productivity and strengthen management control for your hotel, resort, conference center or multi-property group by providing flexible solutions that increase productivity and maximize ROI. With a network of dealers and offices worldwide, NORTHWIND is a leading supplier of software for all types of hospitality operations including hotels, resorts, timeshares, condominiums, retreats, state parks and clubs. Maestro applications are engineered for operators who need to manage their enterprise in a real-time environment for the utmost operational control and profitability. NORTHWIND is empowering over 8000 users worldwide by delivering the industry's most scaleable, flexible and advanced property management solution suite with more than 20 robust Maestro modules.
Contact:
NORTHWIND - Maestro PMS, North America
Audrey MacRae - Director, Sales & Marketing
Phone: 905.940.1923
Toll Free: 1-888-667-8488
Email: info @ maestropms.com
http://www.maestropms.com/HOL?campaign=PRWEbHITECResWaveJune52008
Maestro PMS Ltd., United Kingdom & Ireland
David Warren - Director of Services and Sales
P: +44 (0) 1293 883918
ukinfo @ maestropms.com
http://www.maestropms.co.uk
Media Contact
Julie Squires
Softscribe Inc.
Phone: 404-256-5512
Email: Julie @ softscribeinc.com
http://www.softscribeinc.com
###