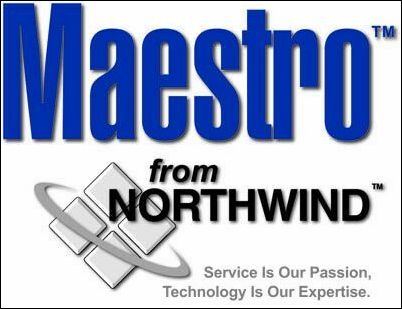 We host thousands of professionals from industry, government and nonprofit organizations and Maestro is a solid solution platform for our property today and for our growing needs in the future.
Markham, ON (PRWEB) March 27, 2007
NORTHWIND, a provider of Maestro Enterprise Property Management hotel software and reservation software solutions for hospitality, announced the Aramark-managed Fluno Center for Executive Education has installed the integrated Maestro Property Management System (PMS) and Maestro Sales and Catering to manage operations. The Fluno Center, at the University of Wisconsin-Madison, was ranked Number One in The World for food and accommodations in executive education custom programs by the Financial Times for the third straight year in 2006.
"The Fluno Center installed Maestro PMS because NORTHWIND delivers great technology and much more," Fluno Center General Manager Jeffrey Butler said. "NORTHWIND is the only company that offered a true partner relationship with the Fluno Center. They understand hospitality system implementation goes beyond a vendor agreement. NORTHWIND adapted its solutions to the Fluno Center's unique requirements and is continuing to surpass our expectations." Butler stated that the Fluno Center's operations team particularly values Maestro's free online training webinars where they gain expertise with the system. The Fluno Center is utilizing the Maestro PMS to streamline front office operations and installed the integrated Maestro Sales & Catering systems to automate its extensive conference facilities. Both Maestro applications share NORTHWIND's advanced single-image database technology for instant access to all group and guest information throughout the property for optimum services.
Warren Dehan, president of NORTHWIND's US operations, said, "The Fluno Center management team understood the value of having a conference center's PMS and banquet event system on the same platform. They operate a high-volume, high-profile conference center for business professionals who are used to the very best. We understand Fluno's unique requirements and are delivering technology that enables them to operate more efficiently and deliver optimum guest services." Maestro is utilized by over 6,500 users in 14 countries since 1978. NORTHWIND maintains an impressive client portfolio including many full-service conference centers and convention facilities worldwide.
The $24 million, eight-floor Fluno Center combines state-of-the-art technology with the ambiance of a comfortable, relaxed residential setting. The center includes an auditorium, meeting and conference space, 100 guest rooms, fitness room and study pub. The center is owned and operated by the Center for Advanced Studies in Business, Inc., a nonprofit corporation that supports the activities of the School of Business and other University of Wisconsin academic departments and programs.
ARAMARK Higher Education is the largest provider of lodging and hospitality management services for campus hotels, inns, and conference centers. ARAMARK prides itself on understanding the mission and goals of its partner educational institutions so it can deliver the properly aligned results. The expertise from ARAMARK allows the Fluno Center to focus on hospitality and its partner institutions to concentrate on education. At the Fluno Center, ARAMARK manages all operational aspects of the conference center, including conference services, food and beverage, audio visual, housekeeping services, front desk, reservations, catering, accounting and security.
"Maestro is focused on the Fluno Center's mission and has the best technology and services for us," said GM Jeff Butler. "We host thousands of professionals from industry, government and nonprofit organizations and Maestro is a solid solution platform for our property today and for our growing needs in the future."
Maestro Enterprise Suite
We know how important it is that you provide your guests a consistent level of service and repeat recognition, while maintaining a 360 degree guest view at every point of contact. NORTHWIND empowers its clients by delivering robust Maestro application solutions sharing a single-image database. The Maestro Property Management Suite of solutions is comprised of over 19 integrated modules including:
Front Office, A/R & Group Management; Efficient operations for hotels from 3, 500 rooms to 25 rooms;

GDS Two Way XML Connectivity - Increases revenue with online, 2-way reservation engine with integrated Yield Management;
Condo/Timeshare Owner Management + Online - In addition to Condo functionality, owners may book units online and review accounts for greater control;
Table Reservations + Online- Agents keep guests on property by pre-booking their dining experiences as well as enabling guests to book their own dining, spa and activity reservations online;
Sales & Catering - Increases sales team productivity with remote access and cross selling for one hotel or a chain;
ResEze Web Booking Engine - Enables you to capture more revenue and maximize Internet sales opportunities by up-selling guests during online room booking;
Yield Management - Data driven decision making with this proactive Integrated revenue manager for multiple booking channels;
Business Intelligence Tools & Analytics - Maximizes revenue opportunities through targeted guest-profile based marketing;
CRM - Consultative data mining and marketing services to optimize data use;
Work Order Maintenance - Tracks equipment use and service to optimize asset investment;
Spa & Activities Management - Capture guest preferences and stay information details for greater guest retention, marketing and revenue;
Concierge - At your fingertips, centralized and expedited guest services controls;
Retail Point of Sale - Automates property outlets, pro shops and stores to maximize on property sales;
Fine Dining Point of Sale - Flexible integrated POS for greater guest service;
Golf Management - Ensures smooth operations via tee-time and tournament scheduling;
Club Membership Management - Property-based club membership and accounting;
CRO - Centralize data and bookings at corporate while facilitating cross property booking enterprise wide;
Guest Experience Management (GEM)- Automated guest response analysis for stronger marketing;
Multi-Property & ASP - Robust solution that supports all Maestro modules and provides real-time integration utilizing single or multiple database implementations.
About NORTHWIND - Maestro PMS
NORTHWIND is recognized in the hospitality industry for its 'standard setting' Four Diamond Support Services and state-of-the-art Maestro technology. The company is widely respected for being a partner that understands how to help you boost productivity and strengthen management control for your hotel, resort, conference center or multi-property group by providing you with flexible software solutions that increase productivity and maximize ROI. With a network of dealers and offices worldwide, NORTHWIND is a leading supplier of software for all types of hospitality operations including hotels, resorts, timeshares, condominiums, retreats, state parks and clubs. Maestro applications are engineered for operators who need to manage their enterprise in a real time environment for the utmost operational control and profitability. This comprehensive multi-platform and database-independent (ODBC Compliant), Microsoft Windows Vista/XP/2000/2003/Linux/Unix ASP/Web Enabled (Citrix/Terminal Services) suite is recognized as the solution of choice for progressive and demanding organizations.
About The Fluno Center for Executive Education
Building on the UW-Madison tradition of excellence in academics and research, the Fluno Center serves as the gateway to the university that connects the university's vast resources to the professional community. The Fluno Center creates a total-immersion learning environment for individuals, professional groups and corporate teams to learn, exchange ideas and explore.
Designed exclusively as an educational learning facility, the center provides the ideal location for UW-Madison public enrollment programs and custom programs including company and industry-specific symposiums, seminars and conferences. The interior captures the simplicity and elegance of the Arts and Crafts era, featuring quality craftsmanship, prairie style furnishings and original lithographs of designs by Frank Lloyd Wright.
Contact:
Audrey MacRae - Director, Sales & Marketing
NORTHWIND
60 Renfrew Drive, Suite #235
Markham, ON L3R 0E1
1.888.723.3129
Fax: (905) 940-1925
http://www.maestropms.com/HOL?campaign=PRWebFlunoMar272007
Media Contact
Julie Keyser-Squires, APR
Softscribe Inc.
Phone: 404-256-5512
###