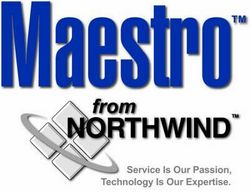 Northwind-Maestro has an excellent reputation for service and technology, and its guest-centric system complemented our personalized service at a competitive price point.
Markham, ON (PRWEB) October 30, 2007
Northwind - Maestro PMS, provider of Maestro Enterprise Property Management hotel software and reservation software solutions for hospitality, announced that it completed a record number of installations of Maestro PMS, Sales and Catering and other system modules at nine independent full-service resorts with over 1,400 rooms in the past six months. Some of the newest Maestro users include the Napili Kai on Maui, The Grand Hotel Cape May of New Jersey, The Hotel St. Regis in Detroit Michigan, the Prince Resort at Cherry Grove Pier in Myrtle Beach, South Carolina, and Benchmark Hospitality's Bedford Springs Resort.
"The Hotel St. Regis selected Maestro PMS and Sales and Catering after evaluating many systems," said Fadi Achour, the hotel's general manager. "Northwind-Maestro has an excellent reputation for service and technology, and its guest-centric system complemented our personalized service at a competitive price point." The Hotel St. Regis is a member of the Luxury Collection of Worldhotels.
The 216-room Bedford Springs Resort in Bedford, Pennsylvania also recently installed Maestro Enterprise. The property offers a luxury Spa, an 18-hole golf course and trout fishing on property. "We are a newly renovated property and Maestro's professional team was very helpful training our new hires during our installation and go-live," said Mark Roxby Bedford Springs Resort's IT manager. "We use Maestro PMS to manage our front office operation and back-end accounting and we will install Maestro Analytics business intelligence in the future." Bedford Springs Resort is operated by Benchmark Hospitality which utilizes Maestro as its corporate go forward property automation system. Maestro is currently used by sixteen Benchmark properties.
Trend: Resorts install Web Connection hotel management software
"The new Maestro installations reflect a growing industry trend of independent resorts implementing sophisticated multi-module systems that integrate Web Connectivity and automate all resort operations on a single-image database," said Warren Dehan, Northwind-Maestro's president of North American operations. Maestro's advanced single-image database technology offers many advantages over legacy systems:

All guest outlet charges are instantly recorded on their folio without rekeying or interfaces;
Additional modules such as Spa & Activities, Membership and Sales & Catering allow bookings and fees to automatically be centralized and shared in front office folios;
Guest requests are recorded in a single record for one or more hotels for a 360 degree view at every point of contact and optimal personal service;
Maestro's multiple-module platform means hotels need only contact one support organization that delivers 24/7 world class support services.
The Web Connection drives resort reservations
The Internet is now the fastest growing source of resort reservations. Resorts that implement Maestro Web Connection technology with property management and other applications are driving more bookings that generate greater revenue. The Maestro Property Management Suite delivers the industry's most robust Web integration with online functionality that includes:

ResEze Internet booking engine with integrated revenue management;
Guest-driven spa, golf and activities scheduling;
Online dynamic package booking & Dining Reservations;
Condo & timeshare owner accounting and reservations.
Northwind will be exhibiting at IH/M&RS November 11-13, 2007 in New York, NY in booth #3038. Additionally Northwind-Maestro will be at the Historic Hotels of America 18th Annual Meeting November 27-29, 2007 in St. Petersburg Beach, FL. Please contact or visit us to request a demo and find out what our service can do for yours!
About Northwind - Maestro PMS
We know how important it is that you provide your guests a consistent level of service and repeat recognition, while maintaining a 360 degree guest view at every point of contact. Northwind is empowering over 6500 users worldwide by delivering the industry's most complete property management solution suite with over 20 robust Maestro applications sharing one single-image database. The Maestro Property Management Suite may be deployed via Windows, UNIX, Linux, Terminal Services, ASP and Web platforms.
Northwind, is recognized in the hospitality industry for its "standard setting" Support & Services and state-of-the-art Maestro technology. The company is respected for being a partner that understands how to help you boost productivity and strengthen management control for your hotel, resort, conference center or multi-property group by providing flexible solutions that increase productivity and maximize ROI. With a network of dealers and offices worldwide, Northwind is a leading supplier of software for all types of hospitality operations including hotels, resorts, timeshares, condominiums, retreats, state parks and clubs. Maestro applications are engineered for operators who need to manage their enterprise in a real time environment for the utmost operational control and profitability.
Maestro Property Management Suite
The Maestro Suite is comprised of over 20 integrated modules including Front Office (PMS), Accounts Receivable, Analytics and Business Intelligence Tools, Sales and Catering, Multi-Property Management, Condo Owner Management with Owner Web Functionality, Timeshare Owner Management with Owner Web Functionality, Spa and Activities Management, Club Membership Management, Yield Management, Golf Course Management, CRM, Central Reservation Office, Corporate Enterprise Management, GDS Two-Way Integration, ResEze Web Booking Engine, Work Order Maintenance, Fine Dining and Retail POS, Table Reservations with Web Booking, Concierge and Guest Experience Management.
Contact:
Northwind - Maestro PMS, North America
Audrey MacRae - Director, Sales & Marketing
P: 905.940.1923
1-888-667-8488
http://www.maestropms.com/HOL?campaign=PRWebNewUserse10.30.07
Media Contact
Julie Keyser-Squires, APR
Softscribe Inc.
Phone: 404-256-5512
Email: Julie@softscribeinc.com
http://www.softscribeinc.com
Softscribe, the Softscribe logo, and WebScribe are registered trademarks of Softscribe, Inc.
###