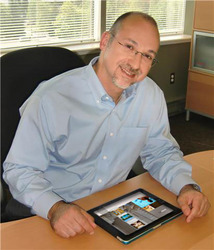 Our social media strategy teamed with Maestro's booking flexibility generates hundreds of room nights and adds to our F&B business.
Markham, ON (PRWEB) June 16, 2010 -
NORTHWIND, provider of Maestro™ Enterprise Property Management hotel software and reservation software solutions for the industry's leading independent hotel, resorts and multi-property groups, announced the launch of its new mobile-capable ResWave Booking Engine that enables guests to book reservations from virtually any mobile device and the Apple iPad. ResWave Booking Engine enhancements include reservation capability directly from social media sites like Facebook to increase revenue and lower reservation costs.
Maestro puts hotel reservations in the guests' hands
"Maestro puts the web in guests' hands with its mobile-ready ResWave Booking Engine," said Warren Dehan, president of NORTHWIND-Maestro PMS. "We level the playing field for independent operators by delivering a mobile-optimized marketing and booking experience to guests at a lower cost-per-reservation than third-party online travel sites."
"Mobile devices like the iPhone, Droid, and Dell's Streak are game changers," Dehan said. "They are the web devices of choice today, and Maestro's mobile ResWave Booking Engine now enables guests to shop and reserve rooms on these handhelds and the iPad. The iPad fills the gap between the cell phone and laptop. Mobile users now have the power to customize travel plans by making dining reservations and book spa and other appointments from their handheld or iPad with Maestro."
Maestro social media booking generates hundreds of room nights
"We use Maestro's ResWave Booking Engine on our Facebook and Twitter social media pages and property website," said Rich Newman, general manager of the Gainey Suites Hotel. "Our social media strategy teamed with Maestro's booking flexibility generates hundreds of room nights and adds to our F&B business."
Social media booking capability gives independent operators the ability to create real-time special promotions on Twitter and Facebook that drive business and increase revenue because guests book reservations directly from the property's fan pages and Twitter handle.
"Hotels must be available where people congregate, and Maestro has made the social media booking process very simple," said Michael J. Hraba, project manager for Waterford Hotels and Inns. "We are using the ResWave Booking Engine on the Facebook page for our Allison Inn and Spa."
Win an iPad just by getting 'Social' at HITEC
NORTHWIND - Maestro PMS is giving away a brand new iPad at HITEC. To qualify, just visit Maestro's booth #523 and make sample room reservations on the iPad via Facebook, Twitter and/or Mobile. The winner will be selected at HITEC from the first attendee who books their reservations on the pre-determined mystery arrival dates.
For a free demo of Maestro PMS, please call 1-888-667-8488 or email info(at)maestropms(dot)com.
Exchange ideas and connect with NORTHWIND on:
Maestro Property Management Solution
Enhance guest service, improve efficiency, and maximize online and offline revenue with Maestro PMS, the industry's most robust and flexible resort software and boutique hotel software solution empowering leading full-service hotels, luxury resorts, multi-property groups, conference centers, condominiums, and timeshare properties. Solutions include Front Office (PMS), Accounts Receivable, Analytics and Business Intelligence, Sales and Catering, Multi-Property Management, Condo & Timeshare Owner Management with Web Functionality, Spa and Activities, Web Booking Engine, Real-Time Yield Management, Dynamic Packaging Golf, CRM, Guest Experience Measurement, CRO, GDS Two-Way XML Connectivity or Integration, Membership, Work Orders, Fine Dining and Retail POS, Online Table Reservations with Web Booking, Concierge, and Guest Experience Measurement. The Maestro PMS is database independent (ODBC Compliant) and may be deployed via Windows, UNIX, Linux, Terminal Services, hosted, and Web platforms.
About NORTHWIND - Maestro PMS
NORTHWIND is recognized in the hospitality industry for its standard setting Diamond Plus Service and robust integrated Maestro resort hotel software technology. With over 30 years' experience dedicated to developing technology solutions for the hospitality industry, NORTHWIND is a partner who understands you need a scalable, flexible PMS that works the way you do. Maestro applications are engineered for operators who need to manage their enterprise in a real-time environment for the utmost operational efficiency, productivity, control, and profitability.
###