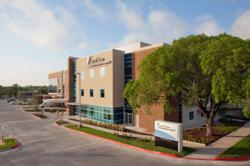 One of the reasons why we targeted Norvin Healthcare for this transaction is because they are sensitive to the unique needs of the not-for-profit health systems.
New York and Austin, TX (PRWEB) February 07, 2013
An affiliate of New York-based Norvin Healthcare Properties has acquired the 60,000 square foot, three-story Central Texas Rehabilitation Hospital (CTRH) in Austin from an affiliate of Dallas-based Prevarian Hospital Partners for $32.9 million.
CTRH is located at 700 W. 45th St. in the city's desirable Triangle district, not far from Seton Medical Center Austin. The rehab hospital is 100 percent leased by a joint venture of Kindred Healthcare Inc. of Louisville, Ky., and Austin-based Seton Healthcare Network.
"We were very attracted to this acquisition opportunity because of the rock-solid reputations of the joint venture tenants. Seton is the leading not-for-profit, integrated health system in Central Texas and Kindred is the nation's largest post-acute care provider," says Norman K. Livingston, Norvin Healthcare Properties President and Founder. "We also were attracted to Austin because it's one of the fastest-growing large cities in the country, and demand for rehabilitation services tends to grow with population."
"We have been trying to gain a foothold in the Austin market for some time," adds Todd Muhlfelder, Norvin's Director of Acquisitions. "So we are especially pleased we were able to acquire a facility in an exceptional, desirable location in the central city where there are few investment or new development opportunities, and high barriers to entry."
"We cherish our relationship with Seton and Kindred, so we were very careful about deciding who to work with on the sale," says Allan R. Brown Jr., Co-Founder and Principal of Prevarian, which developed the facility. "Norvin Healthcare Properties has a long track record of specializing in higher-acuity healthcare real estate, and an excellent reputation for working with and understanding the culture of not-for-profit health systems, especially in Texas. We are confident Norvin will be a good steward of this facility and the Seton-Kindred relationship."
The transaction, which closed Dec. 26, was arranged by the investment banking firm Cain Brothers & Co. LLC. "There are a limited number of buyers who understand rehabilitation services and their growing importance to hospitals," says Timothy P. Schier, Managing Director, Cain Brothers. "Norvin Healthcare Properties appreciates the value of the facility not only as an investor but also to the health system and the Austin market.
"One of the reasons why we targeted Norvin Healthcare for this transaction is because they are sensitive to the unique needs of the not-for-profit health systems. Norm Livingston is very approachable and views these transactions as more than just a real estate investment. He and his team look beyond the bricks and mortar to understand and support the unique organizational needs of the healthcare provider."
Seton and Kindred join a Norvin Healthcare Properties tenant roster that reads like a who's who of Texas healthcare providers, including the world-class institutions MD Anderson Cancer Center, Texas Children's Hospital, Memorial Hermann Health System, St. Luke's Episcopal Health System and the University of Texas (UT) Health System, among others.
The CTRH transaction includes the building, which opened in April 2012, as well as the underlying land. The 3.68-acre site is large enough to accommodate future growth, and the hospital was designed to seamlessly connect on all three floors to a possible future expansion The facility provides highly specialized rehabilitation services for patients with complex physical and cognitive conditions, including brain injury, lower extremity amputation, spinal cord injury and stroke. The hospital also features a therapy pool. The 50-bed freestanding hospital enhances and expands services moved from a 20-bed "hospital-within-a-hospital" that had been operating since 2007 on the eighth floor of nearby Seton Medical Center Austin.
About Norvin Healthcare Properties
Norvin Healthcare Properties is a real estate private equity fund dedicated to providing creative capital solutions to the healthcare industry. We work closely with healthcare operators, allowing them to profit from the value of their real estate. Norvin monetizes acute and post-acute care hospitals, ambulatory surgery centers, integrated medical facilities, outpatient treatment and diagnostic facilities and medical office buildings.
Since 2002, Norvin Properties has concentrated on investment properties serving the healthcare industry, assembling a portfolio in excess of 1 million square feet. Norvin is one of the largest for-profit owners of healthcare properties in Houston's Texas Medical Center – the largest medical complex in the world. Norvin maintains its corporate office in New York City.
For more information on Norvin Healthcare Properties, please visit http://www.norvin.com.