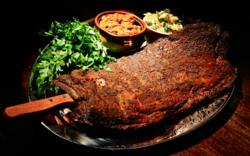 We're looking forward to interact more with our customers online
Norwood, NJ (PRWEB) August 15, 2012
The Blind Boar, a popular Norwood New Jersey restaurant that specializes in Southern style barbecue, has recently updated their social media profiles on Facebook and Twitter, in an ongoing effort to be more active with their customers. With ongoing promotions throughout the community, plus the attention one of the former chefs received upon winning the title of "Chopped Champion" in May, the "roadhouse" as some have called it is already known for its great selection of comfort food and BBQ. A celebration of it's first year in business is also in the works.
"Reaching out and connecting with our customers is important to us so social media has always been a priority but we haven't found anyone that could do it right until we met Mark," states Mario Rodriguez, manager of the the Blind Boar. Through continual effort of the marketing team, the Blind Boar social profiles have been completely upgraded with fresh new graphics plus the addition of proprietary applications on Facebook which will help attract more customers to be more social with the company.
"We have lots of promotions lined up for them and the staff are very excited to implement the plan as well," states Mark Ramos, team member of Route 72 Systems. Online reviews for the restaurant have already picked up and will only get better as the social media team continues to roll out the promotions leading to the big bash in September. Keep up to date with the Blind Boar by being a fan of their Facebook Page at http://www.facebook.com/TheBlindBoar
About Route 72 Systems
Route 72 continues to revolutionize the email data aggregation business space and consistently develops new products and services to assist online marketers in various niche verticals. Local businesses like restaurants do especially well implementing their recommended marketing strategies. Creative web design, landing page conversion optimization, maximizing consumer email address lists and now social media are key factors necessary for any business to be successful online and offline.