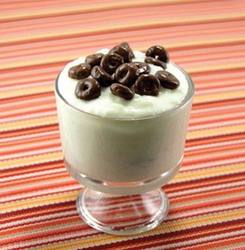 Hicksville, NY (PRWEB) June 17, 2010
Whether it's a backyard barbecue, family reunion, birthday party, picnic, July 4 bash or camping trip, NOT JUST CEREAL, a new milk chocolate-coated cereal snack sold at Walmart in the candy aisle, adds a new and exciting touch to your favorite summer desserts. Made by Nassau Candy and available in four great flavors and in easy-to-carry snack packs, simply place your preferred flavor of NOT JUST CEREAL on top of ice cream, cupcakes, cakes or your favorite dessert for a great-tasting and surprising addition.
Be daring and experiment with all four flavors of NOT JUST CEREAL - Fruity O's, Cinnamon Crunch, Toasted Rice and Honey Toasted O's - as dessert toppers or reinvent some old time favorites for a different taste sensation each and every time.
Below are suggestions for enhancing your summer desserts with NOT JUST CEREAL:

Ice Cream: Jazz up your standard ice cream sundae. Select a scoop of your favorite ice cream, add chocolate or caramel sauce and sprinkle Toasted Rice NOT JUST CEREAL on top for a great crunch sensation. Or, keep it simple and add your favorite flavor of NOT JUST CEREAL to the top of any ice cream or frozen yogurt.
Cupcakes & Cake: Forgo the sprinkles and candy and add NOT JUST CEREAL to the top of your cupcakes and cakes this summer.
Pudding: Add Fruity O's NOT JUST CEREAL on top of vanilla pudding. The combination of fruit and milk chocolate over vanilla pudding is an exciting addition to a traditional dessert.
S'mores: Try a new twist on this classic summer camping dessert. Simply toast your marshmallows over the campfire and place them on a graham cracker. Instead of adding a chocolate bar, sprinkle on crushed or whole Cinnamon Crunch NOT JUST CEREAL, which adds a milk chocolate taste with a hint of cinnamon.
Caramel Apple: Forget coating with nuts and sprinkles and instead roll a warm caramel-covered apple in Honey Toasted O's NOT JUST CEREAL.
If you don't have the time to make a dessert, try any NOT JUST CEREAL flavor on its own. NOT JUST CEREAL is a convenient snack to eat anytime, anyplace and anywhere.
To access NOT JUST CEREAL summer dessert ideas, visit http://www.notjustcereal.com. Let us know about your favorite NOT JUST CEREAL recipes on our Facebook page at http://www.facebook.com/NotJustCereal.
About Nassau Candy
Nassau Candy (http://www.nassaucandy.com), the company behind NOT JUST CEREAL™, is a cutting-edge manufacturer, innovator and developer of confectionery and snack products. Nassau Candy's team of food technologists, confectionery engineers, and of course, trained taste-testers, works hard to perfect the way America enjoys candy and snack foods each and every day.
In addition to NOT JUST CEREAL, Nassau Candy produces millions of pounds of mouthwatering candy and confections every year. Nassau Candy manufactures only the highest quality chocolate products, fudge, fruit slices, Jordan Almonds, hand-dipped cherries, nuts and trail mixes, and many hundreds more sumptuous delights for families to enjoy.
###