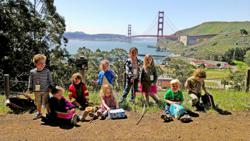 Studies have shown that creativity is declining at an alarming rate, particularly among very young children -- which is the most crucial stage for core creativity skills and brain development.
Sausalito, CA (PRWEB) May 22, 2013
On May 29, the Bay Area Discovery Museum will make history and graduate its first preschool class of creative thinkers, 18 spirited 4-5 year olds. This past fall, the museum became the first in California, and only one of sixteen nationally, to open a licensed preschool on its expansive 7.5 acre grounds overlooking the Golden Gate Bridge.
The school, purposefully named 'Not-A-School,' and described as a creativity enrichment program for young children, has a unique philosophy that allows children the freedom to make discoveries, explore and use their imagination to develop the many facets of childhood creativity and play. Lead by a staff of fully qualified teachers and long-time Museum educators, Heather Posner, Danielle Pitchford and April Gaston, their trademark approach emphasizes open-ended, child-directed, discovery-based activities, in which there are infinite ways to play, discover, and create—not a single, 'correct' way as determined by adults. "Studies have shown that creativity is declining at an alarming rate, particularly among very young children -- which is the most crucial stage for core creativity skills and brain development. We are so proud of our Not-A-School program, whose approach and philosophy aim to ignite and advance creative thinking in our youngest learners." says Karyn Flynn, CEO and Executive Director of the Bay Area Discovery Museum.
When asked about how the Not-A-School program is different than the average preschool, Head of School and Public Programs Manager, Heather Posner, says "One of the most amazing things about our program is to see the capacity children have to learn new things when they're intrinsically motivated. Recently the children began doing serious math and writing because of a game they invented; it's very inspiring to see 3-year-olds and 5-year-olds working together to write words, going on hikes, or create art with joy and freedom."
Daily activities are designed based on the children's interests using an emergent curriculum model and developed to nurture social and emotional development by maximizing opportunities for collaboration and encouraging pro-social behavior. Children and educators create a community of learning together as they engage in art, science, music, and literacy activities, go on outdoor adventures around Fort Baker and play in Museum Exhibits.
Educator Bio
Heather Posner, Head of School and Public Programs Manager, is the lead educator at Not-A-School. She has worked in the fields of Early Childhood Education and Informal Learning since 2002 when she began at the Boston Children's Museum. Over the last several years she has taught preschool, worked at the Exploratorium and completed a Master of Fine Arts in Cinema. Heather began her work at the Bay Area Discovery Museum in 2007 as a Camp Specialist and was immediately moved by the way children are able to interact with the environment. When the opportunity to work here full-time arrived, she was thrilled to become part of such a dynamic organization. Heather has attended seminars at the Smithsonian Early Enrichment Center, completed coursework in childcare center administration and is currently pursuing a Master of Arts in Early Childhood Education at San Francisco State University.
About the Bay Area Discovery Museum & Center for Childhood Creativity
Creative thinking begins early in every child's life. It enables original thought and the ability to see solutions where others don't. It unlocks possibilities and fosters innovation. It provides the fundamental building blocks for success in school and beyond.
The Bay Area Discovery Museum is designed to ignite creative thinking in children. 7.5 acres of natural beauty inspires families to engage in a world of possibilities. Framed by the majestic backdrop of the Golden Gate Bridge, the museum is a space for imaginations to run wild. Every curated detail of our exhibits brings creative thinking to life for all stages of childhood. Navigate winding tunnels to develop physical and intellectual risk-taking skills. Feel the rush of cold-water tide pools that surprise and awaken curiosity. Imagine new worlds by transforming into a spider, a ship captain, or a bridge builder. At every turn is a new opportunity to challenge the boundaries of creativity.
Now we are taking these experiences beyond our physical location. We launched the Center for Childhood Creativity in 2011 to pioneer new research, thought-leadership, and teacher training programs that advance creative thinking in all children—extending our impact beyond the Museum.
Mission: To ignite and advance creative thinking for all children.