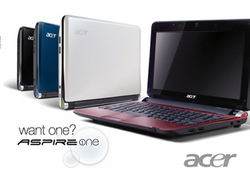 Not all Notebooks are created equal. You need to be aware of the limitations of a Notebook (Netbook)and determine if these Mini PC's are right for you.
Crystal Lake, IL (PRWEB) February 26, 2010
Chicago Area based MiniPC Warehouse has announced the Grand Opening of its "Direct to Consumer" Website dedicated to Mini PC Laptops, Notebook Computers and Netbooks 15" inches or smaller in screen size.
The popularity of the Mini PC has exploded in recent months and MiniPC Warehouse has brought several popular Notebook Computers together in one place to make shopping for a Notebook easier. They have included a "Compare Our Notebooks" page for side by side comparison of Notebooks currently in stock.
Included in inventory are various optional accessories such as: Laptop Locks, Ladies Laptop Bags, Notebook Accessory Bundles and Cooling Pads. Screen sizes range from 10 to 15+ inches and normally are configured in Widescreen Format. Powerhouse Mobile Users or Students may wish to consider more "Screen Real Estate" for better performance and less eye strain.
MiniPC Warehouse recommends the purchase of a Notebook if the following situations apply: Portability is more important than processing power; Graphic intensive programs will be difficult to run unless Memory and the Hard Drive capacity are upgraded; DVD (Optical) Drives are not included in a typical Notebook Computer; Notebooks are great for email, light word processing, surfing the web or posting to social media groups; Notebooks are an inexpensive alternative to overweight, overpriced monster sized SOHO laptops.
Most deficiencies in a Notebook Computer can be overcome with aftermarket accessories like Mass Storage USB Drives, External HD Drives, 4-Port Hubs for connecting peripherals and Optical or Wireless Mice.
For more information: Download the "Free Notebook Computer Information Guide".
About MiniPC Warehouse
MiniPC Warehouse© is a B2C Company Specializing in Notebook Computers and Accessories who's Screen Sizes are 15" inches or smaller. They are a Licensed Re-Seller for Name Brand Notebook Computer Manufacturers that supply to the end consumer. If interested, Bulk Purchases for an organization or School can be acquired by contacting the person below. Territory includes the contiguous United States.
For more information, please visit - http://www.minipcwarehouse.com
Media Contact: Richard Mortlock - MiniPC Warehouse Sales 888-707-3463
###