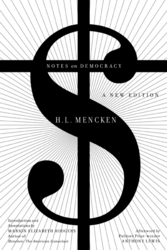 Notes on Democracy: A New Edition
New York, NY (PRWEB) October 23, 2008
Just in time for the presidential election, Dissident Books this month releases "Notes on Democracy: A New Edition" by H.L. Mencken. First published in 1926 and long out of print, "Notes on Democracy" is a classic that rips apart a cherished and blindly worshiped institution with heretical glee. With Ginsu-sharp insight, Mencken, the "Sage of Baltimore" and America's greatest journalist and wit, performs a brilliant, hilarious and timely vivisection of the body politic. The new edition includes an introduction and extensive annotations by renowned Mencken-scholar Marion Elizabeth Rodgers and an afterword by two-time Pulitzer Prize winner Anthony Lewis.
Before casting your vote, after Inauguration Day, and anytime, "Notes on Democracy: A New Edition" acts as the perfect and cynical anecdote to hackneyed, self-congratulatory, and mindless paeans to universal suffrage.
With its War for Democracy, intrusive laws and fanatical fundamentalists, Mencken's age was a lot like our own. Much of "Notes on Democracy: A New Edition" reads as though it was written today. It is both a both timely and timeless masterpiece.
Mencken, whose name is synonymous with freedom of speech, iconoclasm, and skepticism, pulls no punches in "Notes on Democracy: A New Edition":
Government: "(P)oliticians... are influenced... by small but competent and determined minorities, with special knowledge and special interests. It was thus that the plain people were shoved into the late war, and it is thus that they will be shoved into the next one."
The Average Voter: "Liberty is unfathomable to (the Average Voter)... What he mistakes for it, nine times out of ten, is simply the banal right to empty hallelujahs upon his oppressors. He is an ox whose last proud, defiant gesture is to lick the butcher behind the ear."
Those Who Question Democracy: "Democracy, alas, is also a form of theology, and shows all the immemorial stigmata. Confronted by uncomfortable facts, it invariably tries to dispose of them by appeals to the highest sentiments of the human heart. An anti-democrat is not merely mistaken; he is also wicked, and the more plausible he is the more wicked he becomes."
Praise for "Notes on Democracy: A New Edition":
"The tone is beyond satire, almost caustic, like the guy at the bar who sidles up to you with bad news--the guy you can't help thinking has a point." --Susan Salter Reynolds, Los Angeles Times .
"Written more than 80 years ago, Mencken's deeply cynical and amusing book is remarkably relevant today." -- The Globe and Mail (Toronto).
"In 'Notes on Democracy,' (Mencken) offers iconoclastic observations about the virtues and the failings -- mostly the failings -- of the democratic system, at least in terms of its inability to live up to its promise." --Mike Francis, The Oregonian.
"Notes on Democracy is the most artfully written and least well known of H. L. Mencken's many essays on democracy and its discontents... and like so much of Mencken's writing, it turns out to be timelier than ever." -- Terry Teachout, author of "The Skeptic: A Life of H. L. Mencken".
"Notes on Democracy is the most outrageous and politically incorrect of all of Mencken's major works. Marion Elizabeth Rodgers's introduction and notes are models of clarity and scholarship." -- S. T. Joshi, editor of "Mencken's America".
"Shall we make the world safe for democracy? To the contrary, argues H. L. Mencken, with characteristic wit and gusto. The world should be made safe from democracy!" -- Hans-Hermann Hoppe, author of "Democracy: The God that Failed".
"This is a wonderful book... If Machiavelli took off our blinders and exposed the rancid underbelly of tyrants in 'The Prince,' Mencken did the same for democracy in this gem of a book... Buy ten copies. You know who needs them." -- Lawrence M. Ludlow, strike-the-root.com.
"Don't even think about voting until you read this book."
H. L. Mencken (1880-1956) was America's greatest journalist and wit. With his bristling, sardonic humor and unmatched erudition, he mercilessly attacked war hysteria, puritanism, and censorship.
Marion Elizabeth Rodgers is the author of "Mencken: The American Iconoclast," one of Booklist's "Top Ten Biographies for 2005-2006," named to Chicago Tribune's Best of 2005 Nonfiction List, and a finalist for the 2005 Los Angeles Times Book Prize in Biography.
Anthony Lewis is a two-time Pulitzer Prize winner and former New York Times columnist (1969-2001). His most recent book is "Freedom for the Thought That We Hate: A Biography of the First Amendment."
PUBLICATION DATE: October 2008
ISBN-13: 978-0-9773788-1-4
PRICE: $14.95 U.S. / $15.95 CAN
208 PAGES
DISTRIBUTION: Midpoint Trade Books, Baker & Taylor, Ingram
Dissident Books, Ltd. is an independent book publisher committed to releasing works that challenge, provoke and shock.
Contact:
Nicholas Towasser
Dissident Books
Tel: (646) 422-3100
http://www.dissidentbooks.com
###