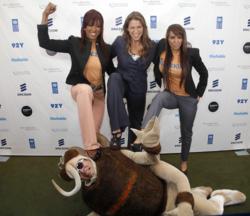 We are thrilled to join forces with WWE to spread the buzz about the United Nations Foundation's Nothing But Nets campaign to their millions of fans," said Chris Helfrich, Director of Nothing But Nets.
New York, NY (PRWEB) October 01, 2012
The United Nations Foundation's Nothing But Nets campaign announced an exciting new alliance with WWE at the 2012 Social Good Summit to help spread the buzz about the fight against malaria to WWE fans across social media. At the Social Good Summit this past weekend, UN Foundation Vice President Elizabeth Gore launched the alliance with Stephanie McMahon, Executive Vice President, Creative for WWE and WWE Divas Layla and Alicia Fox as the Divas tweeted live from the stage about Nothing But Nets. One of the world's most influential brands online, WWE has successfully built a massive, multi-platform digital audience that the organization is committed to using for social good.
Grassroots support defines Nothing But Nets, which has raised more than $40 million from hundreds of thousands of generous supporters. Anyone—from students to CEOs—can help protect families in Africa from malaria. Just as Nothing But Nets is a campaign that families love to rally around, WWE is a global leader with passionate, engaged fans, including children and families in 145 countries. This new, active audience will help spread the buzz about ending malaria deaths farther than ever across its social media channels.
"We are thrilled to join forces with WWE to spread the buzz about the United Nations Foundation's Nothing But Nets campaign to their millions of fans," said Chris Helfrich, Director of Nothing But Nets. "Malaria is a serious global health problem that affects millions of families worldwide, mostly in Africa. Bed nets are a simple, cost-effective tool to shield people from deadly mosquito bites. An alliance with a fun, dynamic organization like WWE and the fabulous WWE Divas will help more Americans than ever join the fight against malaria, send nets, and save lives!"
This new alliance is intended to amplify Nothing But Nets' message that sending nets saves lives. The campaign hopes to bring WWE Divas on an observation trip to Africa in 2013 to see malaria prevention work firsthand.
"WWE is proud to use its global reach of more than 115 million social media followers to deliver the very simple message that supporting Nothing But Nets can help save a child's life," said Stephanie McMahon, Executive Vice President, Creative for WWE. "WWE Divas are powerful ambassadors, and I know they are looking forward to helping raise awareness on this important issue."
Malaria is a global health crisis, yet many do not know that the disease kills more than 600,000 people each year—most of them children under age 5. Since Nothing But Nets launched in 2006, the campaign has distributed more than 6.5 million life-saving bed nets to families across Africa. In partnership with the UN Refugee Agency, Nothing But Nets has helped move malaria from the leading cause of death among refugees in Africa to number five.
A child dies every 60 seconds from malaria, spread by a single mosquito bite. Bed nets are an effective tool to prevent this treatable disease. Just $10 sends a net and saves a life.
Tweet this: JOIN the @WWE Alliance Against #Malaria! Sign & RT! http://bit.ly/UCXmxj @WWEUniverse #SmackDownMalaria #SendANetSaveALife
###
About Nothing But Nets
Nothing But Nets is a global, grassroots campaign to save lives by preventing malaria, a leading killer of children in Africa. Inspired by sports columnist Rick Reilly, hundreds of thousands of people have joined the campaign that was created by the United Nations Foundation in 2006. Campaign partners include the National Basketball Association's NBA Cares, The people of The United Methodist Church, and Major League Soccer's MLS W.O.R.K.S. It only costs $10 to provide an insecticide-treated bed net that can prevent this deadly disease. Visit http://www.NothingButNets.net to send a net and save a life.
About The United Nations Foundation
The United Nations Foundation builds public-private partnerships to address the world's most pressing problems, and broadens support for the United Nations through advocacy and public outreach. Through innovative campaigns and initiatives, the Foundation connects people, ideas and resources to help the UN solve global problems. The Foundation was created in 1998 as a U.S. public charity by entrepreneur and philanthropist Ted Turner and now is supported by global corporations, foundations, governments, and individuals. For more information, visit http://www.unfoundation.org.
About WWE
WWE, a publicly traded company, is an integrated media organization and recognized leader in global entertainment. The company consists of a portfolio of businesses that create and deliver original content 52 weeks a year to a global audience. WWE is committed to family friendly entertainment on its television programming, pay-per-view, digital media, and publishing platforms. WWE programming is broadcast in more than 145 countries and 30 languages and reaches more than 600 million homes worldwide. The company is headquartered in Stamford, Conn., with offices in New York, Los Angeles, Miami, London, Mumbai, Shanghai, Singapore, Istanbul, and Tokyo. Additional information on WWE (NYSE: WWE) can be found at wwe.com and corporate.wwe.com. For information on its global activities, go to http://www.wwe.com/worldwide/.