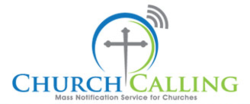 Jupiter, FL (PRWEB) July 13, 2012
Church calls offer an exciting way to inject technology into the age-old practice of religion. ChurchCalling provides religious groups in the United States and Canada a new way to communicate with entire congregations. Whether it be sending prayer requests via their automated calls or sending weekly church announcements with text message campaigns, churches now have an easy way to broadcast their faith to a large audience in seconds.
Common forms of communication in the religious sector are usually quite dated methods such as phone trees, bulletin boards and weekly church service announcements. ChurchCalling will allow religious leaders to interact with entire congregations on a daily basis without consuming hours upon hours of time.
Schedule daily prayers or bible verses to be sent directly to religious followers' cell phones via text messages, record a prayer request and send out the personalized voice message to every member of the church in a matter of seconds – Church Calling is here to keep the faith alive between leaders and followers.
"We want to provide religious groups all across the country with an extremely easy and efficient way to communicate with their entire congregation" says owner David Batchelor. "Our church notification service combines modern technology with religion."
The best thing about ChurchCalling and their church calls is that there is no hardware or software required – all calls and text messages are sent via touch-tone phone or online (web browser).
About ChurchCalling
ChurchCalling.com was founded in 2012 and has become an extremely efficient resource for religious groups across the United States and Canada. Whether you are the leader of a large church or the pastor of a smaller community church, our service allows you to send out hundreds to hundreds of thousands of church calls, donation requests, church announcements and prayer requests in a matter of seconds.
For more information, please visit http://www.churchcalling.com or call 888.391.3133. You can also email support(at)churchcalling(dot)com for additional information.
###