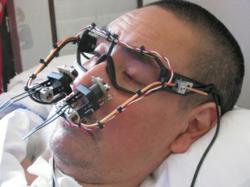 "That was the first time I've drawn anything in seven years. I feel like I had been held under water, and someone finally reached down, and pulled my head up so I could take a breath." – Tempt
Los Angeles, CA (PRWEB) November 01, 2011
After meeting a graffiti artist with Lou Gehrig's Disease named Tempt, business owner, executive producer and humanitarian, Mick Ebeling made a conscious decision that has changed the lives of those affected by paralysis. A leader in forward thinking who is active in developing and discovering world-renowned design and directing collectives including the Not Impossible Foundation (NIF) and the Ebeling Group (TEG), Ebeling has accessed his creative task forces to design a unique device called the EyeWriter, a practical solution that anyone has access to create, using a YouTube tutorial video, a pair of eyeglasses and a digital camera. The Eyewriter allows people suffering from neuromuscular diseases and paralysis to draw, design, and create, but most of all - communicate by using their eyes.
Raised in a family of entrepreneurs and philanthropists, Ebeling's first non-profit organization was an LA Unified School System backed venture that exposed inner city kids to latest technologies and paired them with elite Hollywood post-production mentors, called Digital Groove. Recognizing the importance of social responsibility, with his EyeWriter project, Ebeling more recently launched the Not Impossible Foundation (NIF) – an emerging non-profit organization devoted to making the impossible become possible, when the right people are connected and empowered. NIF is comprised of thinkers, dreamers, and doers fusing imagination and technology to develop creative solutions for real-world problems.
Ebeling's career began in the production and animation industry with one of the first ever Mac-based design companies. Five years later, he launched his own commercial film, design and animation production company, The Ebeling Group (TEG). With locations in both New York and Los Angeles, TEG has been recognized for their Grammy nominated music videos, Sundance feature films, and award-winning branded content for the gaming arena as well as for Fortune 100 brands such as Diesel, Coca-Cola, and Nike. Made up of artists in their own right, TEG is well connected to the graffiti community – a creativity and art they respect and admire.
After befriending an ALS (Amyotrophic Lateral Sclerosis also referred to as Lou Gehrig's Disease) patient and renown street artist named Tempt, Ebeling embarked on one of the most rewarding chapters in his career with the creation of the EyeWriter. When he learned of his story of paralysis, Ebeling and his team felt compelled to assist and sponsor Tempt. Ebeling's NIF partners defined Tempt's situation, brainstormed solutions and established a clear direction: create a lightweight, low-cost, portable device for art and communication — and make it available to anyone who needs it. The EyeWriter was conceived.
NIF's long-term goal is to create a global professional/social network of software developers, hardware hackers, urban projection artists, and ALS patients from around the world who will use local materials and open-source research to creatively connect and make eye art. Some of the international initiatives financed by NIF have lead to the creation of ongoing projects such as in Mumbai and the MumbaiWriter, where they have blogged their progress haggling prices and building the EyeWriter from local materials.
With its creation and success, Mick Ebeling and the EyeWriter have achieved noteworthy press and several appearances including TED: Ideas Worth Spreading. Ebeling and the EyeWriter project have also been honored at Advertising Age and Creativity's 2010 as well as recognition in Time Magazine's "The 50 Best Inventions of 2010".
Ebeling continues his creative achievements with The Ebeling Group as well as spreading the word about the EyeWriter and message of the Not Impossible Foundation; all the while raising the very important questions: If not now, then when? If not me, then who?
"That was the first time I've drawn anything in seven years. I feel like I had been held under water, and someone finally reached down, and pulled my head up so I could take a breath." – Tempt
Additional Links:
Eyewriter/NotImpossibleFoundation: http://www.youtube.com/watch?v=84H-xLrLvvk
EyeWriter/Tempt: http://www.youtube.com/watch?v=84H-xLrLvvk
TED: http://www.ted.com/talks/lang/eng/mick_ebeling_the_invention_that_unlocked_a_locked_in_artist.html
###