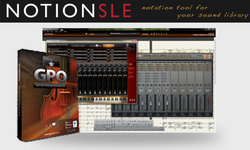 Greensboro, NC (Vocus) June 10, 2010
NOTION Music has released NOTION SLE for Garritan Personal Orchestra. This special edition of the NOTION3 music notation software connects directly with Garritan Personal Orchestra, allowing users to simply compose while the program handles all of the articulation and dynamic changes. Now users can get great sounding playback faster than ever.
As the user writes and articulates the score, NOTION SLE follows instructions and automatically changes the appropriate Garritan Personal Orchestra patch in playback to accurately and realistically perform the score. The user can also take full advantage of NOTION's live performance features and conduct the full orchestra with an unmatched level of control in the industry.
About NOTION Music
NOTION Music, Inc. is dedicated to the advancement of music through innovative software solutions. NOTION's award-winning software simplifies music composition, notation, and performance with the sounds of world-class musicians. NOTION Music, Inc. is headquartered in Greensboro, North Carolina, with an international office in London, England.
About Garritan Orchestral Libraries
Garritan is an award-winning developer of high-quality soundware. Garritan Libraries have won accolades from celebrity musicians and music press alike. The Garritan libraries have been used in a variety of applications: from TV shows and film to video games, live concerts and ballets. Hundreds of schools and universities have chosen Garritan libraries for use with their music curricula.
###