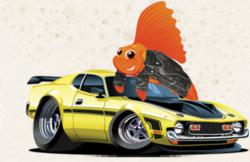 It's great to come across a feel-good story amidst the general depressing sort of news you generally see. This guy put it out on the line, took a shot in the dark, and it worked.
Minneapolis, MN (PRWEB) January 09, 2013
RoadFish.com men's lifestyle and finance magazine today issued their support of the dedicated Notre Dame fan who, as a Discover card holder, petitioned the credit card company with a proposition in order to score tickets to the 2013 BCS National Championship game in which the man's beloved team will take on the Alabama Crimson Tide. RoadFish.com commended Minnetonka, MN resident Dan Scaminace for his creativity and drive, and also warned that the dedicated fan may want to monitor his credit score closely as he sets out to complete the terms of the bargain.
Ann Edgerton of the Miami Herald recently reported that Dan Scaminace, a Minnesota salesman and Notre Dame graduate of the class of 2005, was desperate to get tickets to the BCS National Championship when he decided to contact his credit card company, Discover, who is also the corporate sponsor of the famous competition. Edgerton reports that Scaminace wrote an email to the CEO of Discover offering to cut up all of his other credit cards, transferring the balances to his Discover card, as well as an offer to donate his cash-back bonuses to charity if the company would grant him tickets to the game. He even said that he would get a Discover tattoo if the company would comply with his request. One week later, Scaminace was the proud ticket-holder of two seats to the game, and Discover even threw in plane tickets, VIP passes, and a hotel room for the dedicated fan and his fiancé.
RoadFish.com commended Scaminace for his creative thinking, and was happy to see such a dedicated person be rewarded for his persistence. RoadFish.com's Senior staff writer is quoted as saying, "I love seeing stuff like this. It's great to come across a feel-good story amidst the general depressing sort of news you generally see. This guy put it out on the line, took a shot in the dark, and it worked. I'm impressed at how resourceful he is, I'm not sure if anybody else has even ever thought to go straight to the source—a corporate sponsor—and put in a request like Scaminace did. I hope he is living it up in Miami today. This is something he'll never forget."
When asked about where he got the idea, Scaminace told Michael Rand of the Minnesota Star Tribune that back in November, "I was talking to friends about getting down to Miami, going without tickets, seeing if we could get them, but at least be a part of it even if we didn't. We didn't really have any plans. Then one day, I was paying my Discover card bill online. It dawned on me: It's the 'Discover BCS championship.' I'm a loyal credit card holder." As Scaminace professed his love of the Fighting Irish to Discover and cast his plea to the corporate sponsor for tickets, he is quoted as saying, "I was laughing as I wrote [the email.] I thought, 'This is pretty good.' I was slightly embarrassed, but I certainly wasn't above it."
RoadFish.com applauded Scaminace but offers him some advice to ensure that his credit score doesn't take a hit as he holds up his end of the bargain and cancels his other credit cards. RoadFish.com's Senior staff writer is quoted as saying, "Now that Scaminace was granted tickets to his coveted game, he's going to be expected to hold up his end of the deal. I am a bit concerned for his credit score, because it's no secret that closing credit accounts negatively impacts credit scores. I would urge Scaminace to check his credit score report frequently as he goes through the process of closing his accounts, and probably not closing them all at once. I think that might result in disaster for his report and score. Perhaps he can use his bargaining skills to negotiate some way that his closing the accounts won't impact his score? That would be nice!"
The 2013 BSC National Championship Game is being hosted this year at the Sun Life Stadium in Miami Gardens, Florida on Monday, January 7th. The #1 ranked team in the country, the Notre Dame Fighting Irish, will take on the #2 team Alabama Crimson Tide for the title in the famous post-season showdown.
About RoadFish.com:
RoadFish.com is an online men's magazine specializing in articles pertaining to finance and men's lifestyle topics. The publication is geared towards male readers in their 30's and 40's who enjoy setting and reaching personal and professional goals, and who enjoy the finer things in life. RoadFish.com offers columns on things such as dating advice, hot chicks, restaurant and hotel reviews, and short term investment options. RoadFish.com is owned and operated by Purpose, Inc.