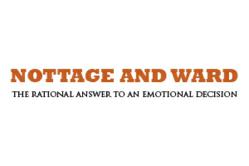 We are delighted to see the next generation of leadership take over the management of Nottage and Ward...
Chicago, Illinois (PRWEB) May 15, 2013
Jeffrey Knipmeyer will serve as Nottage and Ward's first client service partner focusing on the service differentiators and responsiveness. The firm has also launched client service standards, which will provide the foundation for Nottage and Ward's mission to be fully committed to their client and their client's needs and experience as well as resolving legal matters in a professional, effective, and value-driven manner. Nottage and Ward's client service standards are a firm pledge to maintain the highest quality in counseling and ethics when advising their clients.
With this appointment, Fineberg joins the ranks of a small number of female managing partners of Illinois law firms. In this role, she will not only manage the firm's finances, administrative staff, facilities and vendor relationships, but also continue to maintain her active legal practice in the area of divorce and family law.
Leslie Fineberg has practiced family law since graduating from the University of Miami School of Law in 1991. She began her practice as an Assistant State's Attorney focusing on parentage, support, domestic violence, and enforcement of Judgments for Dissolution of Marriage. She is certified as a mediator and is able to navigate complex negotiations reaching successful settlements in her clients' divorce cases. Leslie has been appointed as a Special Assistant Attorney General on numerous cases.
Jeffrey Knipmeyer is a partner with Nottage and Ward and brings a broad range of experience to the firm. He has practiced law since graduating from DePaul University College of Law in Chicago in 1996. Prior to joining Nottage and Ward, Jeffrey served as State's Attorney, litigating child support, child abuse, and neglect cases. He also has experience in the areas of divorce, custody, and juvenile matters, which provides a unique perspective and advantage when addressing clients' legal needs and concerns. Jeffrey is a member of the American Bar Association and the Chicago Bar Association.
"Nottage and Ward has a team of outstanding professionals who work collaboratively capitalizing on each other's strengths in order to best serve clients' needs for divorce, civil union and family law services," said Leslie Fineberg, Managing Partner. "We are well-managed and have been since our founding in Chicago more than 25 years ago. It is my pleasure to take over the reins managing the details of running the firm thus allowing my partners the time to do what they do best in providing clients with clarity and legal solutions at a difficult time in their lives," Finberg said.
"We are delighted to see the next generation of leadership take over the management of Nottage and Ward and to help steer the course and future direction of the firm," said Rosaire Nottage, Partner and Co-Founder. "Leslie Fineberg and our other partner, Jeffrey Knipmeyer, share our same values, vision and passion for providing clients with zealous representation, responsive service and cost-effective divorce and family law services," said Nottage.
"It is gratifying for us to see the vision for Nottage and Ward build and grow more than 25 years after the firm's founding," said Eunice Ward, Partner and Co-Founder. "Leslie Fineberg and Jeff Knipmeyer are skilled negotiators with deep experience litigating complex family law cases. These skills are coupled with a sensitivity and ability to remain strategic and focused while supporting clients engaged in very emotional and difficult issues," said Ward.