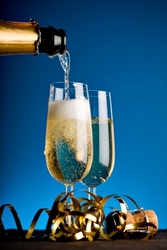 Washington, DC (Vocus) December 23, 2009
Notti Bianche extends an invitation to attend an exclusive New Year's Eve celebration on December 31st.
There will be two dining opportunities: the early booking time from 5pm is the perfect choice for the pre-theatre crowd, with a $45 pre-fixe menu featuring a choice of appetizer, entrée and dessert from the a la carte menu, or from Chef DeCoste's tantalizing specials, and also includes a celebratory glass of champagne! For those ready to party the night away, the 8pm reservation time offers the chance to indulge in the luxurious menu offerings, and relish in the excellent wine selections.
For New Year's Eve only, Notti Bianche has put together a great selection of Sparkling wines and Champagnes to complement the menu.
Reservations are limited and required for this special evening. Please either call on 202-298-8085 or email manager@nottibianche.com to make a reservation. Remember to specify a time preference – the earlier booking times are reserved for diners who will be leaving for theater performances. A credit card is required for all reservations; unfulfilled reservations will incur a $50/person charge.
Notti Bianche looks forward to welcoming in 2010 with its valued guests!
Happy Holidays from Notti Bianche!
###