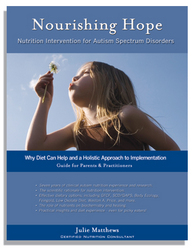 neither easily introduced nor easily followed long term
San Francisco, CA (PRWEB) April 1, 2008
Mayo Clinic nutritionists discourage families from applying special autism diets. Julie Matthews, a Certified Nutrition Consultant and author of 'Nourishing Hope', disagrees. She has helped hundreds of parents with dietary interventions for autism and says, "Diet can help, sometimes tremendously. It's rare to see diet not help in some way."
"Their opinion seems misinformed and unwarranted," claims Julie. Regarding autism diets, the Mayo Clinic dissuades parents by saying "there is no scientific evidence" and that autism diets are "neither easily introduced nor easily followed long term," identifying "complexities" as reason for pause.
"With so many seeing improvements with autism diets, I'd prefer they not discourage families from trying diet simply because it might be challenging," Julie states, "rather they should investigate why they these diets help." An increasing body of autism research supports the need for dietary intervention, including a recent report from the National Institutes of Health. Julie's book, 'Nourishing Hope', contains more than two hundred scientific references.
To help with autism, Julie recommends avoiding gluten and casein (wheat and dairy) because these foods are known to affect a brain response similar to morphine leading to foggy thinking and food cravings in children. Next, she suggests introducing foods that are easy to digest, rich in good bacteria, and packed with nutrients such as homemade broths, naturally fermented foods, and pureed vegetables hidden in meatballs, as well as supplements such as cod liver oil, probiotics (good bacteria), B6, magnesium, and zinc.
With April being autism awareness month, Julie is informing parents and clinicians about diet and autism through presentations and radio broadcasts around the country. She is presenting at the Defeat Autism Now(DAN!) national conference in New Jersey on April 4 with leading autism clinicians, researchers, and celebrity Jenny McCarthy.
Julie sides with sound science and overwhelming parent experience when she recommends special diets for autism. The strategy targets the physical symptoms of autism that are commonly overlooked. She says, "Different diets serve varied needs to help alleviate symptoms and promote healing. The key is finding and refining a diet that best serves an individual child."
For more information, contact NourishingHope.com.
About Julie Matthews:
Julie Matthews is a Certified Nutrition Consultant specializing in autism spectrum disorders. Her book, 'Nourishing Hope', and her work are based in extensive research and understanding of the biochemistry of autism and the role of nutrition to restore health. She speaks at national autism conferences, and leads cooking demonstrations on traditional healing foods. Julie has a private nutrition practice and weekly radio show in San Francisco and assists clients from around the world.
About Nourishing Hope:
Nourishing Hope comprises seven years clinical nutrition experience and research including over 200 scientific references. It outlines the major autism diets including GFCF/gluten-free, casein-free (wheat-and-dairy-free), Specific Carbohydrate Diet (SCD), Body Ecology Diet, Feingold Diet, Weston A, Price, and more.
Nourishing Hope explains the biochemistry of autism and the impact of nutrition on children. Included are detailed steps for dietary intervention and a roadmap for getting started, evolving, and customizing the varied approaches. The book contains practical insight garnered through parents' anecdotal experience with nutrition and diet intervention.
###