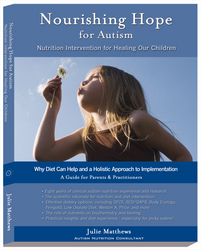 Autism diet is an exciting area of study--parents are seeing results as they help their children follow specific diet principles
San Francisco, CA (PRWEB) July 8, 2009
A groundbreaking autism book that validates diet as an essential and effective way to help reduce the symptoms of autism has been awarded the 2009 1st Place Gold Medal for "Outstanding Book of the Year -- Most Progressive Health Book" at the Independent Publisher Book Awards (The IPPYs). "Nourishing Hope for Autism" was chosen over 4,000 entrants and acknowledged for "the courage and creativity necessary to take chances, break new ground, and bring about change."
Authored by Julie Matthews, a San Francisco nutrition consultant who specializes in nutritional intervention for autism, ADHD, and other childhood disorders, "Nourishing Hope for Autism" comprises eight years of clinical nutrition experience and research. The book includes the scientific explanation of how and why diet helps children with autism and guides parents and clinicians to use diet effectively for maximum healing results.
"Julie Matthews has done an incredible job with her book," says Dr. Kurt Woeller, a top medical expert who treats children with autism at Stillpoint Center for Integrative Medicine, "nutrition is a key to healing autism."
"Autism diet is an exciting area of study--parents are seeing results as they help their children follow specific diet principles," says Julie. "I am honored that this learning is helpful to parents and recognized by the judging committee at IPPY as 'most progressive.'"
According to the National Institute for Health, one in 150 children are diagnosed with autism. It is the fastest growing childhood epidemic. Traditional treatments recommend behavior and communication therapies, and medicines to control symptoms. Now, scientific data and anecdotal parent experience support special autism diets as a strategy for relieving autism symptoms.
Diet for autism is based on the practical conclusion that the psychological and behavioral symptoms of autism are impacted by physical and medical issues within the body of the child with autism. Diet specifically addresses the gut-brain connection, which is critical for children with many different levels of autism symptoms--physical, emotional, cognitive and behavioral. Because the brain is directly impacted by the digestive systems of these children the foods they are fed can either help them or harm them.
This nutritional approach is supported by scientists in a new case study published June 29, 2009 in the Journal of Child Neurology. It is reported that a boy with gluten intolerance (Celiac Disease) and autism removed gluten from his diet and experienced marked improvement in his health and autism symptoms. "The patient's gastrointestinal symptoms rapidly resolved, and signs and symptoms suggestive of autism progressively abated." The report concluded, "It is recommended that all children with neurodevelopmental problems be assessed for nutritional deficiency and malabsorption syndromes." Research like this and other studies worldwide support the work in "Nourishing Hope for Autism" and the results that thousands of parents document -- special diets help children with developmental delays.
Kimberly Mahurin, a mom and "Rescue Angel" with Generation Rescue, Jenny McCarthy's autism organization that lends support to families, encourages parents to read "Nourishing Hope for Autism." She says, "Diet is the most important key to healing. No therapies will work as well unless you are using diet and healthy nutrition."
Jenny McCarthy, autism activist and founder of Generation Rescue, implemented diet as an integral part of her son's healing protocol when he was diagnosed with autism as a toddler. According to Jenny, her son has made a full recovery using diet, supplementation, behavioral therapy and medication.
Speech Therapist Dawn Winkelman adds, "I have personally seen children who didn't speak, start to talk after a diet change." Parent survey results by the Autism Research Institute report that most children who follow a nutrition-focused autism diet see improvement in autism symptoms such as behavior and communication.
"Nourishing Hope for Autism" outlines all of the major autism diets. Included are detailed steps for dietary intervention and a roadmap for getting started and customizing the varied dietary approaches. Author Julie Matthews educates parents and physicians at the nation's leading conferences on autism treatment and advocacy. This year, she presents for Defeat Autism Now!, Autism One, US Autism & Asperger Association, Autism Society of America, National Autism Association, and has already keynoted conferences in Canada and Australia.
To learn more visit NourishingHope.com.
To purchase a copy of Nourishing Hope for Autism, visit NourishingHope.com or Amazon.com.
Review copies and interviews available.
About Julie Matthews:
Julie Matthews is a Certified Nutrition Consultant specializing in autism spectrum disorders. Her book, 'Nourishing Hope for Autism', and her work are based in extensive research and understanding of the biochemistry of autism and the role of nutrition to restore health. She educates at national autism conferences, leads autism cooking classes, and hosts a weekly radio program. Julie has a private nutrition practice in San Francisco and assists clients from around the world.
###