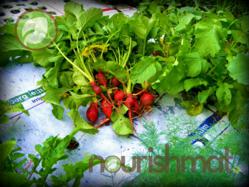 Frederick, MD (PRWEB) January 09, 2013
Earth Starter is proud to announce the release of its product called Nourishmat, a tool designed to take the guess-work out of gardening. The product was officially launched to the product's first round of beta testers across the United States on Earth Day 2012.
Nourishmat is a four by six foot rectangular vegetable gardening system made of high-quality, reusable weed barrier fabric that features pre-cut and labeled spacing holes for growing a variety of vegetables. The color-coded sections of Nourishmat take the guess-work out of crop placement utilizing the well-known square foot gardening method. This innovative rethinking and repurposing of basic materials, coupled with plans for a built-in irrigation system designed to conserve water by up to 70% compared to traditional gardening, makes Nourishmat the only horticultural tool of its kind in production.
To ensure that a successful garden is the result of each Nourishmat user's experience with the product, the Earth Starter team collaborated with Mr. Jon Traunfeld, Director of the University of Maryland Extension's Master Gardener program, in configuring the layout of Nourishmat. Growing spaces in the mat's surface have been placed strategically to create an ideal ecosystem for plants to thrive in. To test Nourishmat's performance in various biomes, the product was sent out to beta testers in 13 different states and in the US Virgin Islands.
Nourishmat was invented by entrepreneurs Philip-Michael Weiner of Washington, DC and John-Randall Gorby of Frederick, MD. Both partners are graduates of the University of Maryland, College Park and co-founded Earth Starter as a means of creatively building upon the concept of traditional weed barrier material to create a product that empowers people to grow their own food despite a lack of experience or time. The Earth Starter team has a combined total of over 10 years of experience in entrepreneurship, business development and environmental technology.
Mr. Weiner and Mr. Gorby have stated that the positive impact that growing and consuming nutritious vegetables has on one's health and on the environment was an important driving force behind the creation of Nourishmat. The partners say that farmer shortages and alarmingly high rates of food insecurity in the Washington metro area also served as a major push to develop and release this product. Nourishmat will not only give all of its users everything they need to grow quality, organic produce, but will also serve as an invaluable tool for garden education.
Nourishmat, developed by Earth Starter, LLC, is an innovative gardening product geared towards empowering people to grow their own food. The patented design and construction of Nourishmat takes the guess work out of gardening. The Nourishmat, which was officially launched on Earth Day 2012, features built-in irrigation, custom-made seed balls and crop-specific spacing guides printed on a weatherproof weed barrier. The product serves as a tool to help busy humans supplement their diets with healthy, homegrown produce and to promote food growing in their communities. To learn more, visit http://www.nourishmat.com.