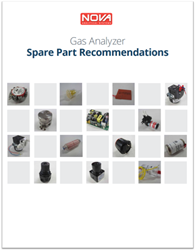 Nova Now allows visitors to browse a full available inventory, view details and specifications, and order multiple parts within a few clicks
Niagara Falls, NY (PRWEB) February 15, 2016
Nova Analytical Systems launches Nova Now, the new one-stop shop for ordering spare gas analyzer parts.
Designed with the user in mind, Nova Now allows visitors to browse a full available inventory, view details and specifications, and order multiple parts within a few clicks.
In tandem with the Nova Now launch, Nova Analytical Systems provides a Spare Part Recommendations Guide for those looking for the right part for their product.
The company has long prided itself on an integrated approach to design and manufacturing, crafting ideal products for each unique application. The new online spare parts ordering system and recommendations guide will encourage this process, providing essential background and product information to get clients started.
"Adding spare parts ordering to our website is the another step in Nova's journey towards becoming a truly customer-centric organization," says CEO, Grant Freeman. "We pride ourselves on giving our customers the very best, including spare part recommendation guides and instant access to your spare parts inventory."
Nova's dedication to technology and service is nothing new. Independently crafting analyzers for over 30 years, the company has more recently become part of the Tenova Goodfellow family. This partnership has boosted their work straight to the international industrial scene, making their highly specialized analyzers key components of a worldwide industrial market.
Tenova is committed to developing technology to support its industries in quality products, energy savings and pollution reduction. The new Nova Analytical Systems spare parts portion of the website will enhance the user experience for its entire family of products and offer a vastly improved level of service to customers. To learn more about choosing the recommended spare part for your analyzer, download the Spare Part Recommendations Guide or see the new Nova Now Spare Parts Site today.
About Nova Analytical Systems:
Nova Analytical Systems Inc. has been designing and manufacturing dependable gas analysis equipment for over 30 years. Nova offers portable gas analyzers, continuous gas analyzers and sample conditioning equipment for industrial applications. We serve a diverse range of traditional and emerging industries all over the world. Our integrated approach to design and manufacturing allows us to configure our products to suit each application, while still being able to offer the best price, long-term reliability and proven technology in each analyzer. We back up our products with excellent, prompt service.