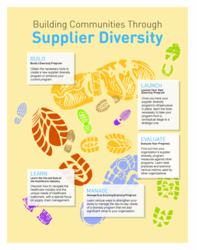 IRVING, TX (PRWEB) July 02, 2012
Novation, the leading healthcare supply contracting company for the members of VHA Inc., UHC, and Provista LLC, and Rutgers University, Center for Management Development, are excited to announce the launch of a new Healthcare Executive Certificate Program. Enrollment for the Certificate Program opens on June 25, 2012.
The Program's core classes will be held on the New Brunswick campus of Rutgers University from August 27-31, 2012. The Certificate Program offers:

detailed and thorough information regarding navigating the healthcare industry through pre/post eLearning courses as well as in-person courses taught by business practitioners and Rutgers faculty;
a special focus on strengthening smaller, diverse businesses;
courses to strengthen both financial and marketing knowledge for small business owners;
key messages and industry insight from global leaders; and
testimonials from diversity leaders providing their expertise on how small, diverse companies can be successful in the healthcare industry.
The Certificate Program is open to all interested executives, but is aimed primarily at executives of certified diverse business – those that are certified as Minority, Woman or Veteran Business Enterprises (MWVBE).
Supplier diversity is becoming more important as organizations understand how it relates to their customers, communities, competitors, cost containment, customization of needs and compliance concerns. Diverse suppliers that provide added value are often leading the way in innovation and other transformational breakthroughs. And growth in diversity often helps support the communities served by individual hospitals since diverse suppliers are often local businesses and reflect the patient population being served.
"Today's healthcare environment is challenging, exciting and constantly changing," says William J. Bigoness, Executive Director of Rutgers Center for Management Development. "This program specifically addresses the issues facing today's executives. Healthcare can be a unique industry, and small and diverse business executives trying to break into the industry can easily feel overwhelmed. We've designed this program to provide a strong foundation through the insight and encouragement of the industry's leading experts."
The Program kicks off with an opening reception led by Dr. Randal Pinkett. Dr. Pinkett, winner of season 4 of NBCs's "The Apprentice" reality show with Donald Trump, is the Chairman and CEO of BCT Partners, a business and technology consulting firm in Newark, NJ, with deep expertise in healthcare, pharmaceutical and life sciences. Dr. Pinkett is not only a graduate of Rutgers, but he also made history as the first African-American ever to receive a Rhodes Scholarship at Rutgers University.
"As the owner of a diverse business that delivers innovative solutions to the healthcare industry, I am honored to be a part of this Program's innovative spirit," says Dr. Pinkett. "The Program's leaders and its curriculum are dedicated to not only improving America's healthcare industry, but also improving our country's small and diverse businesses. I firmly believe that robust business diversity is critical to economic improvement across the country. There is a real need for a program like this, and I'm proud that my alma mater is a part of it."
"We see supplier diversity as a conduit for job creation," says Lamont Robinson, senior director of Novation's diversity program. "It helps increase the level of competition in healthcare, which in turn results in more innovation and better patient care. We are excited to be a part of this development."
In addition to the in-person classes, the program offers eLearning prerequisites and post program follow up through Worldwide Virtual Academy. Jonah Cooper, Jr., a strategic partner of Rutgers, will develop the eLearning courses to augment the healthcare executive program.
To learn more about enrolling in the Novation/Rutgers Healthcare Executive Certification Program, please visit the Rutgers Center for Management Development website, http://cmd.rutgers.edu/healthcare-executive-certificate-program.
For a video of Lamont Robinson discussing Novation's perspective on the importance of supplier diversity, please visit Novation's YouTube channel: http://www.youtube.com/novationnews.
About Novation, Winner of the Ethics Inside® Certification
Founded in 1998, Novation is the leading healthcare supply contracting company for the more than 65,000 members of VHA Inc. and UHC, two national healthcare alliances, and Provista, LLC. Novation provides alliance members with sourcing services, as well as information and data services. Based in Irving, Texas, Novation develops and manages competitive contracts with more than 600 suppliers. VHA, UHC, and Provista members used Novation contracts to purchase more than $40 billion in 2011. Novation recently earned the coveted Ethics Inside® Certification from Ethisphere Institute, a leading international think tank dedicated to the research and promotion of best practices in corporate ethics and compliance. Novation was also named on Ethisphere's World's Most Ethical Companies list, and is the only company in the healthcare industry to earn both distinctions. To learn more about Novation, please visit http://www.novationco.com and follow @NovationNews.
About Rutgers University and Rutgers Center for Management Development
Rutgers, The State University of New Jersey is the eighth oldest university in the United States and today, is among the most distinguished universities in the United States and a member of the prestigious Association of American Universities. With a student body of 58,000 students Rutgers has the most diversified student body of all American universities.
The Rutgers Center for Management Development (CMD) has been a leading provider of management education programs for more than 50 years. Sponsored jointly by the Rutgers Business School and Rutgers School of Management and Labor Relations, CMD designs and delivers programs for both individuals and organizations. Annually, over two thousand individuals participate in CMD's programs covering a wide range of topics, including management, strategy, marketing, operations, economics, leadership and human resource management. Instructors are Rutgers University faculty members and industry experts selected for their current expertise in specific areas
About Dr. Randal Pinkett
An Academic All-America® Hall of Fame inductee in 2011, Dr. Randal Pinkett was a standout performer in track and field at Rutgers and also earned a Walter Byers Graduate Scholarship. After graduating from Rutgers, Dr. Pinkett was the first African American to receive a Rhodes Scholarship at Rutgers. He went on to earn a Master of Science in Computer Science from the University of Oxford in 1996, a Master of Science in Electrical Engineering, a Master of Business Administration from MIT in 1998 and a Doctor of Philosophy in Media Arts and Sciences from MIT in 2001. He was awarded Entrepreneur of the Year Award by the National Society of Black Engineers and the National Urban League's Business Excellence Award. He has been active in community service including serving as a spokesman for Autism Speaks, New Jersey Reads and Junior Achievement of New York. Dr. Pinkett also serves as a member of the board of directors for New Jersey Public Policy Research Institute, the non-profit Technology Enterprise Network and the National Visionary Leadership Project. Dr. Pinkett is the chairman and CEO of BCT Partners, a business and technology consulting firm for Fortune 500 corporations and the public sector. He is the author of Black Faces in White Places: 10 Game-Changing Strategies to Achieve Success and Find Greatness, and also won the fourth season of The Apprentice, NBC's reality television show. To learn more about Dr. Pinkett, please visit http://www.RandalPinkett.com and follow @RandalPinkett.