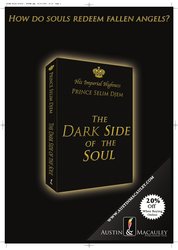 The writing in this book is brilliant. As a reader, you genuinely feel the loneliness of the two protagonists during their tragic, eons-long separation. Prince Selim's book is highly imaginative and a great pleasure to read."
Geneva, Switzerland (PRWEB) December 15, 2009 -–
His Imperial Highness Prince Selim Djem, Ottoman royalty and great-great grandson of Emperor Abdulmejid, is proud to announce the release of his novel, 'The Dark Side of the Soul' to America. After a successful launch to the U.K. this fall, Prince Selim is embarking on a campaign to introduce his gorgeously written novel to an American audience.
The story line is completely unique. Two souls fall in love and then are separated by the angel Gabriel, who casts them to earth. Embodied in human form but robbed of their memory, they seek each other through the ages, never aware of the nature of their obsessive quest. It is a story filled with dichotomies, an exploration of the dual sides of human nature, good and evil, dark and light, attraction and repulsion, heaven and hell, as well as examining altruism and destruction within oneself and mankind. It is a story so exquisitely written, it's impossible to stop reading it. Prince Selim describes beauty rarely experienced by readers, and at the same time, he explores man's excesses and unchecked destructiveness in horrific detail. In the end though, the novel is a completely original love story, a story about longing that leaves readers deeply affected.
What makes the novel even more intriguing is the fact that it is written by Ottoman royalty. Prince Selim's perspective is utterly unique.
"My father, His Imperial Highness Prince Burhaneddin Djem, spent the first four years of his life in his father's palace in Istanbul. He clearly remembers the day the soldiers, following Mustapha Kemal's orders, came into the and told his father, His Imperial Highness Prince Ibrahim Tevfik, that his family, their entourage and he had three days to pack their belongings and leave the Ottoman Empire. From then on, the members of the Ottoman Family found themselves lost and dispersed around the world."
This perspective is echoed in his novel. Prince Selim is both impartial narrator and an integral part of the lead characters. In this way, readers are drawn in, keenly feeling the characters' experience and also impressed with deeper questions about the nature of humanity and man's place in the universe.
An excerpt:
"Two selves – one light gold, the other, darker – awake from an endlessly dreaming mind.
…A single world appears, plucked out of its span through time. Below us, a motionless glade sprawls in the midst of a silent forest. Butterflies and birds are stuck in mid-air, walls and slivers of lava belched by a volcano hang in the bloody sky.
…An angel steps forward from behind the old, gnarled tree. With long raven hair and eyes like darksome stars, he observes us, wings slowly beating.
'I place you under a spell of forgetfulness and grant you the gift of life,' he whispers and casts us into the world of flesh. Swirling and twirling, I find my way in a creature's mind and instantly possess it, blending myself with its awareness."
Early reviews of 'The Dark Side of the Soul' are glowing:
"HIH Prince Selim has used his imagination and sense of spirituality to write a novel that is unique and crosses conventional boundaries. This novel traces the journey across time and geography of two souls that keep meeting. Prince Selim's novel is a page turner designed to keep you wondering what will happen next. If you enjoy intelligent, witty and challenging novels, then you should buy and read this novel immediately."
-- John Scanlon
"A look into the mind of Ottoman royalty as he shares an intellectual yet seductive tale of love and longing! As a part of the Ottoman Dynasty he has an amazing first hand grasp of the intrigue of the ages. This novel will keep you spellbound as you navigate through the twists and turns of good and evil, love and longing. As I read Prince Selim's novel, I felt transported in a more pure, innocent time."
-- Donna Harrison
To read additional excerpts or to order 'The Dark Side of the Soul,' please visit http://www.selimdjem.com or to purchase the novel directly from Amazon, visit http://www.amazon.com/Dark-Side-Soul-Prince-Selim/dp/1905609418/ref=sr_1_5?ie=UTF8&s=books&qid=1260485957&sr=8-5.
To arrange an interview with Prince Selim, please contact: info(at)ottoman.li or call 01141227385610.
About the Prince Selim Djem
His Imperial Highness Prince Selim Djem is a member of Ottoman royalty. The Ottomans were a ruling dynasty for more than 700 years, with an empire that encompassed territory stretching from North Africa to the Balkans, over Eritrea, the Near East, most of the Middle-East as well as all the countries along the Black Sea. Prince Selim attended the Université de Genève, where he studied numerous subjects ranging from Biochemistry to Psychology. After teaching on the university level, he became a professional reporter, interviewing celebrities like Woody Allen, Kim Basinger, David Bowie, Tim Burton, George Clooney, Kevin Costner, Courtney Love, Sharon Stone, Robin Williams, to name a few.
###