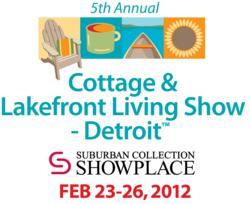 Every aspect of cottage and lakefront living for cottage, lakefront property and vacation homeowners or those looking to buy, build or rent is on display
Novi, Mich. (PRWEB) December 27, 2011
Every aspect of cottage and lakefront living for cottage, lakefront property and vacation homeowners or those looking to buy, build or rent are on display at the pre-season fifth annual Cottage & Lakefront Living Show, Feb. 23 - 26, 2012 at the Suburban Collection Showplace (formerly Rock Financial Showplace), Novi, Mich. Exhibits include log, timber frame and cedar homes, cottage rental, architects, cottage furnishings, lakefront homebuilders and realtors, lakeshore maintenance, boats and docks, outdoor recreational equipment, non-profit environmental organizations, government agencies, financing and other products and services to make purchases and plans for spring, summer and year-round cottage and lakefront living. For more information, visit http://www.NoviCottageShow.com
COTTAGE & LAKEFRONT LIVING SHOW – DETROIT
FACT SHEET
Location:
Suburban Collection Showplace (formerly Rock Financial Showplace) located at 46100 Grand River Ave. between Novi and Beck Road, Novi, Michigan
Dates:
February 23 - 26, 2012
Hours:
Thursday, February 23
2 p.m. – 9:30 p.m.
Friday, February 24
2 p.m. – 9:30 p.m.
Saturday, February 25
10 a.m.– 9 p.m.
Sunday, February 26
10 a.m.– 5 p.m.
Admission:
Adults $10
Children (6-14) $4
5 & under Free
Discount coupons for $2 off Thursday or Friday adult admission are available at show's Web site. Free crossover admission from the Cottage & Lakefront Living Show to Outdoorama.
24-Hour Info:
1-800-328-6550 or http://www.NoviCottageShow.com
Follow the show on Twitter http://twitter.com/novicottageshow and become a fan on Facebook http://NoviCottageShow.com/Facebook
Parking:
On site parking available for a fee
Overview:
Every aspect of cottage and lakefront living for cottage, lakefront property and vacation homeowners or those looking to buy, build or rent are on display at the pre-season fifth annual Cottage & Lakefront Living Show. Exhibits include log, timber frame and cedar homes, cottage rental, architects, cottage furnishings, lakefront homebuilders and realtors, lakeshore maintenance, boats and docks, outdoor recreational equipment, non-profit environmental organizations, government agencies, financing and other products and services to make purchases and plans for spring, summer and year-round cottage and lakefront living.
Special Features:
Discover how a cabin is put together, floor plans, profiles, roof options, log species, cedar siding, full logs, post and beam and do-it-yourself or contractor built home packages at The Log and Timberframe Showcase.
Get informal advice and educational materials on shoreline construction projects and natural shoreline landscaping that benefit lake ecosystems and protect Michigan's inland lakes from the Michigan Natural Shoreline Partnership.
Join the fun and turn a pile of sand into a sand sculpture at The Beach, a giant sandbox complete with sand and carving tools for creative building by children and adults.
See Michigan artists at the Cottage Fine Art Show presenting wearable art, photography, woodcarvings, watercolors and oil paintings for sale based on nature and wildlife or purchase decorative accessories at the Lakefront Marketplace.
Learn about sharing and keeping the cottage in the family, environmentally sensitive lake practices, bird watching, hobbies and other ways to enjoy your cottage more from the Cottage Living Stage experts.
Increase your outdoor living space with ideas from landscape displays of fireplaces, cooking options, patios, decks and gardening products.
Relax at the Cottage Living Center and work on a community puzzle, put a pin in our oversized Michigan map to show where your cottage is located or read a book selected from the 2012 Essential Cottage Reading List.
Vote for your favorite photo that depicts cottage and lakefront living traditions at the Water & Woods Photo Contest Display.
Find out how to make the most of home and vacation living when owning, renting, building or buying a cottage or lakefront property.
Gain tips, advice and knowledge on purchasing, planning, maintaining, financing and landscaping cottages from experts available throughout the show.
###