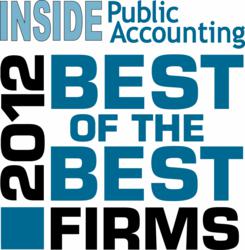 Novogradac & Company LLP was one of the 50 top-performing firms to earn INSIDE Public Accounting's (IPA's) Best of the Best Firms designation as well as recognition as one of the fastest growing firms for 2012
San Francisco, Calif. (PRWEB) September 04, 2012
Novogradac & Company LLP has once again earned INSIDE Public Accounting's (IPA's) Best of the Best Firms designation as well as recognition as one of the fastest growing firms for 2012. In addition to these honors, the San Francisco-based firm was distinguished as one of the top 50 accounting firms in the nation in terms of financial and operational health.
Best of the Best firms are honored each year for the exceptional performance of those who work there in addition to each firm's perceptive leadership, regardless of the state of the economy. Fifty firms with revenues ranging from $1 million to $11 billion earned coveted places on this prestigious roll, out of a pool of more than 430 firms considered in this year's survey.
Best of the Best firms demonstrate long-term consistency and exceptional performance regardless of outside factors, according to IPA.
"It is an honor to be named a Best of the Best firm and I could not be more thrilled," said Michael J. Novogradac, CPA, managing partner in the firm's San Francisco office. Novogradac & Company has been named a Best of the Best firm for 10 of the last 11 years, two years of which included honorable mentions by IPA. "There is nothing more encouraging than being recognized for our foresight, hard work and consistent performance for our clients. My partners and I are regularly impressed by the work of our diligent professionals in our firm's offices across the country whose attention to detail and commitment to ensuring each client's specific needs are met have made our success and this recognition achievable."
INSIDE Public Accounting was founded in 1987 and is published by The Platt Group. IPA's monthly newsletter reports and analyzes the news, trends, strategies and policies that impact public accounting firms all across the nation and the material assists these firms in operating successfully.
San Francisco-based Novogradac & Company LLP is a national certified public accounting and consulting firm with offices in San Francisco and Long Beach, Calif.; Bellevue, Wash.; metro Atlanta, Ga., Washington, D.C., Detroit, Mich. and Kansas City, Mo.; Austin, Texas; Dover, Cleveland and Columbus, Ohio; Portland, Ore.; New York, N.Y. and Boston, Mass. It serves clients in a broad range of industries with an emphasis in the real estate and service sectors. The firm provides a full spectrum of audit, tax, valuation, litigation support and general consulting services to publicly and privately held enterprises nationwide.